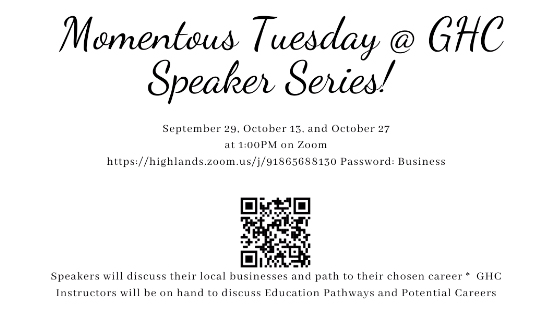 Georgia Highlands College (GHC) will present the virtual "Momentous Tuesday @ GHC Speaker Series," beginning Tuesday, Sept. 29, at 1PM.
The three-week long series, which is free and open to the public, will feature local business owners discussing their businesses and the path to their chosen career.
"This speaker series is a collaboration drawing from GHC's annual Pathway Exploration event along with an opportunity to speak to local professionals about unique careers," Librarian Jessica Osborne said.
Due to COVID-19, the in-person "Pathway Exploration" informational fairs will not be held this semester. Instead, GHC faculty will be available to address questions and discuss education pathways and career options during the "Momentous Tuesday" events.
The speakers for the series work in a variety of different fields, ranging from photography and live-event painting to environmental preservation and a plant-based food service.
"These speakers are local professionals who came from backgrounds just like our students and were able to find satisfying careers in our area," Osborne said.
Speakers will include representatives from businesses such as Rooted in the Loop, Cindy Harter Photography, IAmNotMaggie, Big Door Vineyards, Kris Lavender Wedding & Event Planning, Pettit Environmental Preserve and Pumpkinvine Gardens.
"We hope to generate interest in GHC's pathways by educating students about previously unknown opportunities within each field," Osborne said.
The series will be held Sept. 29, Oct. 13 and Oct. 27 at 1PM at the following link using the password "Business": https://highlands.zoom.us/j/91863688130