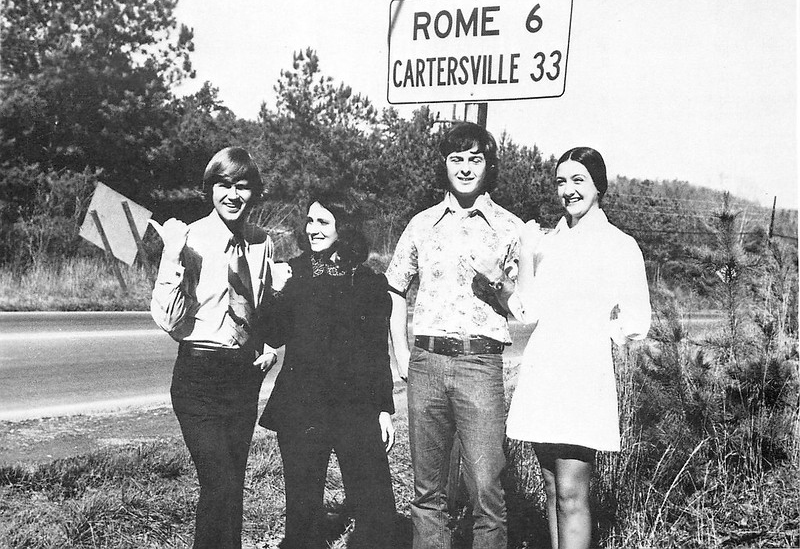 Georgia Highlands College is currently celebrating its 50th anniversary this fall. Since 1970, students, faculty, and staff at GHC (formerly Floyd Junior College and Floyd College) have worked to expand the college in a number of ways, including some long-standing areas in student publications and the Rome-based television station.
From 1972 onward, two student publications have published consistently throughout GHC's history: the student literary magazine called the Old Red Kimono (ORK) and the student-run newspaper called the Six Mile Post (SMP).
Additionally, since the early 90s, GHC has operated a television station called Georgia Highlands Television (GHTV).
As GHC celebrates its 50th anniversary, pioneers and leaders of these areas reflect upon their impact and success.
Six Mile Post
In a typical year, the SMP student newspaper publishes seven print editions and regularly publishes online stories. The newspaper has received awards from organizations such as the Georgia Press Association since 1975.
Since 1972, the SMP has provided a historical account of the college's milestones, documented student life and athletics and has addressed current issues important to students.
Now-retired English Professor Kristie Kemper began serving as the SMP's faculty adviser in 1980.
"The Six Mile Post is an interesting reflection on changing cultural styles and issues, but it also reveals the things that stay the same — the students striving to get ahead and having fun at the same time," Kemper said.
Kemper said moving from manual page layouts to computer layouts was one of the biggest changes she saw while serving as faculty adviser.
"Originally, staffers had to cut out each story, put hot wax on the back and paste it on a layout page," Kemper said. "They used a machine for making the headlines, typing sight unseen and printing out strips of headlines developed through a chemical bath."
Years later, SMP became one of the first Georgia college student newspapers to go online.
Over the decades, the SMP has received numerous awards from the Georgia Press Association, the Georgia College Press Association, the Southern Regional Press Institute and the Associated Collegiate Press. Individual students have been recognized for writing, photography, advertising, art and graphic design.
To help expand their skills, staffers have attended journalism workshops across the U.S. and have interned at area media outlets and institutions. Some have even spent a summer at the Institute for Political Journalism in Washington, D.C. or covered women's softball during the 1996 Olympics.
"While the main goal of the SMP has always been service to the college community, taking part in competitions and workshops and press institutes has given the students on the SMP staff additional motivation to strive for excellence," Kemper said.
Former SMP staff members have gone on to distinguish themselves as journalists, public relations specialists, teachers, hospital administrators, wildlife biologists, lawyers and more.
"I have seen, and students have told me, that the skills and confidence they gained working on the SMP staff have been important in their careers and their lives," Kemper said.
After 40 years of service as the SMP faculty adviser, Kemper retired and passed the role on to Assistant Professor of Journalism and Communication Allison Hattaway in the fall of 2019.
In addition to the SMP earning 11 awards during Hattaway's first year as adviser, Hattaway guided the staff through rebranding, a new logo design and updated look at the start of 2020, as well as helped launch "The Student Spin" podcast.
Old Red Kimono
Old Red Kimono is GHC's student-edited literary magazine that annually publishes the work of GHC's writers and artists since 1972.
Professor of English Nancy Applegate began serving as faculty adviser for ORK in the late 1990s.
"I had worked on the literary journal at my previous school and wanted to continue that work when I came to GHC," Applegate said. "I've stayed with it because it's one of the truly fun things I get to do, and the students we attract are a motley and interesting bunch."
As the creative writing offerings have grown at GHC, so has the ORK.
"In the early days, the magazine was mostly a vehicle for the creative writing class, with only one creative writing class being offered each year," Applegate said. "But now the college offers multiple sections of creative writing, and we get a good number of submissions from students at large."
In addition to growing interest and content, the ORK has seen its annual receptions expand as well. Applegate said prior to COVID-19, the ORK held annual receptions on every GHC site, with the event on the Rome campus event drawing up to 150 people.
"Our themed receptions have been some of my most memorable experiences with ORK," Applegate said. "In 2012, we released our apocalypse issue, and the table decorations were zombie-themed. In 2019 we had a superhero issue, and the table decorations included action figures and comic books."
The ORK is also known for bringing the arts to the local community through public poetry readings and for helping its writers prosper.
"A couple of years ago, three of our poets were featured in Northwest Georgia Living Magazine," Applegate said.
As a long-time institution of GHC, the ORK's success had depended upon the hard work of many contributors inside and outside of the magazine's pages.
"One of the more bittersweet memories is the time my husband, Joe, spent helping with ORK; he used to bring food to the meetings sometimes, and he always helped with parties and receptions," Applegate said. "His death in December of 2018 was a tremendous loss for ORK. More than a dozen former ORK editors came to his memorial. We also lost former ORK Faculty Adviser LaNelle Daniel in 2018. The 2019 issues featured portraits of Joe and LaNelle, painted by Art Editor Anna Holley."
GHTV
Originally launched on Sept. 6, 1994 as FCTV after Floyd College, GHTV helped begin the process of providing remote learning options at GHC as well as a wide range of programming.
Retired Professor of English Carla Patterson helped start GHTV and worked with the station until 2001. At the time, Patterson worked in GHC's Extended Learning department, which produced and delivered video lectures from professors.
"I worked in TV, radio and print news prior to starting my career in education," Patterson said. "The plans for a 24/7 TV station, and academic television, seemed to be an exciting blend."
Dwight Cassity, a now-retired Political Science professor, taught American Government at FCTV from the fall of 1993 to the spring of 2005. His class was shown four times a day.
"To spice up my classes at the studio, some semesters I would either have a weekly news quiz or a one-hour program in which I would cover the news on a weekly basis," Cassity said.
Cassity served as reporter, producer, director and host, collecting and sharing news stories and providing commentary.
Patterson said one of her most memorable times at the station relates to the 1996 Olympics.
"We were able to help deliver live news from Latvia, EU, to its weight lifters who were training on our Floyd site, produce 'Welcome to Rome' promos in eight languages, follow the torch relay through Rome and ensure our students could still access their lectures during the schedule shifts mandated by the games," Patterson said.
In addition to pioneering remote learning through course lectures, GHTV programs have included campus tours, orientations, professor introductions and videos on faculty, staff, students and athletes, as well as coverage of college events.
Since 1994, GHTV has produced a total of 111 college-credit video-based courses, totaling approximately 4,085 hours of academic productions. The station is provided by Comcast to the local community and to all of Georgia by AT&T U-verse.
Visit 50years.highlands.edu for more on the college's anniversary or visit highlands.edu to learn more about GHTV, SMP, or ORK.
PICTURE: Floyd Junior College staff members for the Six Mile Post in 1974