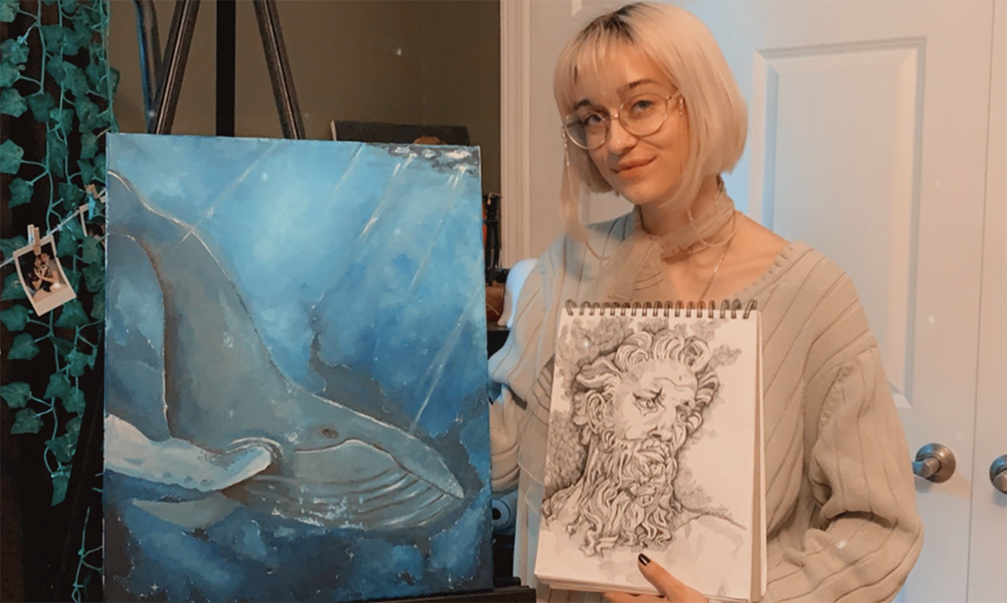 Despite moving to remote operations this spring, Georgia Highlands College has continued its annual student art exhibit in a virtual format, allowing students to place their work on display and giving others the opportunity to see students' talent and creative efforts.
"Usually we have a spring exhibition of work that had been produced in the art program's studio courses and we exhibit the work in the Lakeview Art Gallery," Humanities Professor Brian Barr said. "This year, since we were working remotely, the art faculty set up the online exhibit, so it worked the same way – we had students submit their assignments online and we selected pieces from that collection. There were no awards this year, but the pieces were chosen by the course instructors."
Barr said once the college moved to remote teaching, instructors revised the normal assignments to new subjects that could be better completed at home, such as drawing from photographs and interior studies. Instructors then used synchronous, virtual class-meetings to evaluate students' work.
Most of the show came from the work that students did remotely. About 20 of the 30 submissions received were placed on display.
GHC student Julia Belew, of Adairsville, entered several of her pieces in the exhibit. Belew, who is pursuing an Associate of Arts in Art, is no stranger to having her work on display, and said she has fond memories of a lifetime of sharing her work with others.
"My artwork is very personal to me as I'm sure it is for most artists, but I progressed so much as an artist last semester working with [GHC] Professor Barr and I wanted to show off that progression via the art exhibit," Belew said. "Before starting Drawing I, it was rare that I stepped back from a finished piece and felt proud, but last semester, I created several pieces I am proud of."
She said while the transition to an online learning format has some challenges, she feels her instructors have continued to provide quality instruction outside of the traditional classroom setting.
"All my teachers at [GHC] have been really wonderful with the switch [to remote delivery]," Belew said.
The exhibit can be viewed by visiting https://sites.highlands.edu/division-of-humanities/art/spring-2020-student-exhibition/
PHOTO: GHC student Julia Belew, of Adairsville, entered several of her pieces in the exhibit.