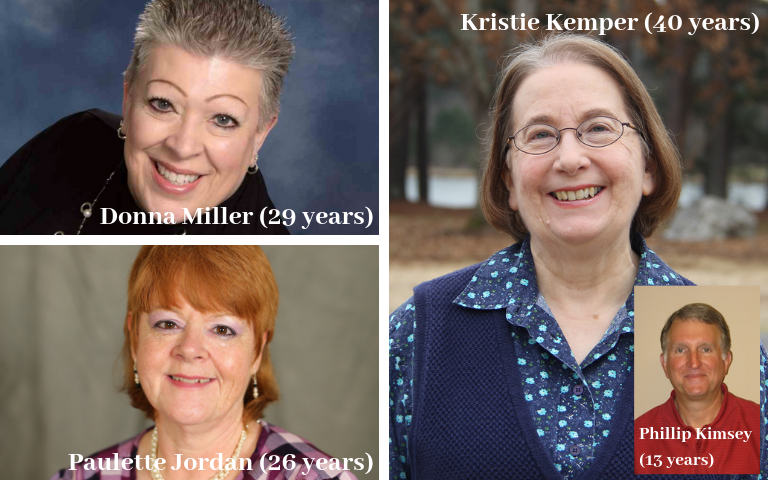 Four longtime Georgia Highlands College employees, with over 100 years of service between them, will be retiring in 2019. The retirees encompass faculty, staff and administrators, and span four different college divisions and two instructional sites.
Kristie Kemper (40 years)
With 40 years of service, Professor of English Kristie Kemper is GHC's most senior faculty member. She received her Master of Arts in English and Doctor of Philosophy in English from the University of Tennessee. She later completed post graduate work at the University of Southern Mississippi. Kemper began her career at GHC in September 1979 after teaching for four years in Tennessee and West Virginia. She received tenure at GHC in September 1985 and was promoted to Professor in September 1991.
In addition to her invaluable work as a professor, Kemper has served the college in countless ways throughout her four decades at GHC. She has served on nearly every standing faculty committee, along with special committees, search committees, and the GHC Branding Team. Kemper was a founding member of the Chargers Athletics Booster Club and has led GHC's chapter of the American Association of University Professors. She has also served as the voice for the faculty as a whole as the elected faculty representative to the GHC Instructional Council.
Kemper has been faculty advisor to the student newspaper, The Six Mile Post, for 39 years. During that time, the publication has won numerous state, regional, and national awards of excellence. For 34 years, she has coordinated and developed the Alabama Shakespeare Festival Trip for students, faculty and staff, and others in the community. Additionally, she has helped with the English Majors Association, served as a student success coach, and judged speech competitions and literary meets.
In 2003, Kemper was the recipient of the Board of Regents Teaching Excellence Award for two-year and state college faculty. She has been selected as a participant in three National Endowment for the Humanities Summer Seminars for college teachers. In February 2014, Kemper received the Wilton C. Scott Award for Excellence in Scholastic Journalism presented by the Southern Regional Press Institute. She was inducted into the Southern Regional Press Institute's Hall of Fame in its inaugural 2016 class. She was presented with the Wesley C. Walraven Faculty Award in 2015 and was chosen as the Mace Bearer for commencement in 2019.
Kemper officially retires in August, though she hopes to remain involved with GHC as a tutor or Chargers Athletics Booster Club volunteer. Though she says she will miss the interactions between students and faculty and staff, along with working with the Six Mile Post staff, she looks forward to having more time for reading, writing, traveling, and visiting family.
Donna Miller (29 years)
Donna Miller has taught and watched over 300 dental hygienists graduate and go on to provide dental care throughout the state and the country over her 29 years as Director of Dental Hygiene. She started with the program in 1990 when it was still part of the Medical College of Georgia and has managed it ever since, including through its transition to GHC in 1998. Her leadership has secured accreditation for the program by the Commission on Dental Accreditation in 1997, 2004, 2011 and 2018.
Outside of teaching, Miller has served GHC on various committees and councils, from Environmental Health and Safety Committee to the Academic Council. She has also served as the advisor for the Student American Dental Hygienist Club. Outside of work, she has served the Rome community through volunteer work. In recognition of this, she was awarded the Community Involvement – Administrator award by GHC in 2018. This award recognizes a staff member who demonstrates a passion for making a difference by sharing their spirit, positive attitude and time with others.
Miller retires at the end of May, with the class of 2019 as her 28th graduating class. She says she will miss her coworkers and the sense of teamwork at GHC, along with her interactions with students. After retirement, she will be moving to South Carolina to be near family, where she hopes to continue volunteering with CASA and in the hospice field. She is also interested in working with older adults and advocating for those who need assistance with healthcare and life issues.
Paulette Jordan (26 years)
Paulette P. Jordan began her career at GHC as a student assistant. In 1993, she officially joined the staff as a Lab Assistant. Throughout her 26 years with GHC, she continued to embrace a love of learning. She completed three associate degrees at GHC and was just a few credits shy of a fourth. She also made sure to take each and every course for which she served as the Lab Assistant.
Outside of the lab, Jordan was extensively involved in faculty and staff initiatives at the Floyd campus. She planned countless much-loved luncheons as her time as an Ambassador and was a founding member of the Floyd College Choir. She also assisted with the Baptist Student Union and numerous basketball tournaments.
Jordan retired from GHC in April. She will be using her newfound time to visit family in Michigan and continue her mission work domestically and internationally. She says she will miss the wonderful people at GHC that she considers her family, especially her former supervisor Jason Christian and the Physical Plant and custodial teams, who she says are the "backbone of the college."
Phillip Kimsey (13 years)
Phillip Kimsey has worked at GHC as Director of Physical Plant since 2006. In this role, he carries out the division's mission of maintaining and enhancing buildings, grounds and the physical infrastructure in a cost-effective, safe and environmentally responsible manner.
In his 13 years of service with GHC, Kimsey has led Physical Plant through several major projects. He has led the team in a complete renovation of the Heritage Hall site, the openings of both the Paulding and Douglasville instructional sites and the expansion of the Cartersville instructional site. He has also served GHC on the Capital Expenditures Committee.
Kimsey says he will miss being involved in the growth and expansion of GHC but is looking forward to traveling after his retirement in June. He also hopes to begin work in designing homes.