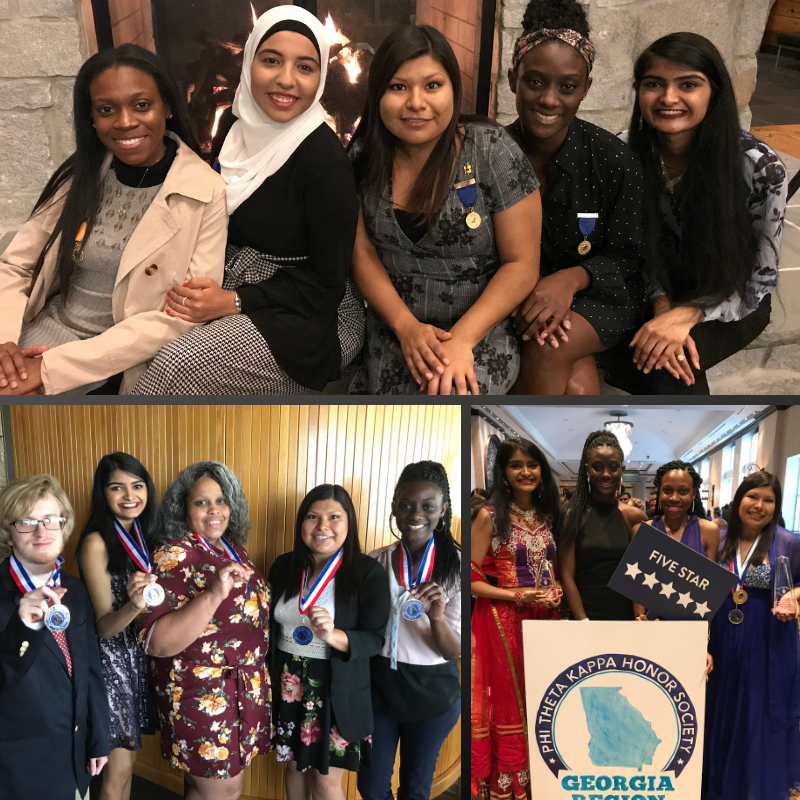 The Alpha Psi Omicron chapter of Phi Theta Kappa (PTK) at Georgia Highlands College once again has much to celebrate as the 2018-2019 academic year ends.
The year began with chapter members Caitlyn Ingram, Samson Jean and Cindy Mendoza Razo each winning a Coca-Cola Leaders of Promise Scholarship, awarded to only 200 PTK members nationwide each year. Meanwhile, Karishma Patel was selected as a semi-finalist in the highly-selective Jack Kent Cooke Foundation Undergraduate Transfer Scholarship.
Later in the fall semester, the chapter hosted the Georgia Region's Fall Leadership Conference at GHC's Cartersville site after being elected to Regional Vice-Presidential Chapter in spring 2018. The chapter was later chosen to serve regionally yet again as the Regional Office of Chapter Relations for the next academic year. The chapter will attend the Honors Institute at San Diego State University on a scholarship this summer to prepare for these upcoming duties. 
The spring semester brought even more honors. In March, PTK members Vanessa Cornejo, Tajera Davy, Lisa Donohue, Cindy Mendoza Razo, Karishma Patel and Nicholas Whitmire were selected for the Coca-Cola All-Georgia Academic Team and honored at an awards luncheon in Atlanta.
At the organization's Spring Regional Conference, the chapter brought home more awards than any other chapter in the region for the fourth consecutive year.
The chapter as a whole earned designation as a REACH Chapter. REACH stands for Recognizing Excellence in Acceptance and Completion with Honors and is awarded to PTK chapters that achieve or exceed a 15 percent membership acceptance rate for the year. The chapter also won the Distinguished Issue award for the group's Honors in Action Project centered on a theme of "The Powers of Connection."
The chapter's officers, Lexii Daniels, Tajera Davy, Lamya Khateeb, Karishma Patel and Cindy Mendoza Razo, were recognized together as a Distinguished Chapter Officer Team. Cindy Mendoza Razo, chapter vice president of membership, was also honored individually as a Distinguished Chapter Officer and with a regional Hall of Honor award. Karishma Patel, chapter vice president of social media, received the Sarah Anne Staples Award.
GHC alumna Elle Summers was recognized as a Georgia Distinguished Alumnus at the conference. Serving PTK as a chapter officer as a student, Summers earned her Associate of Arts in psychology from GHC in 2017. Summers is currently pursuing a bachelor's in sociology at Oglethorpe University.
GHC faculty and staff were also recognized for their contributions to PTK. Vice President of Student Affairs Todd Jones received the Georgia Distinguished Administrator Award while Betsy Clark received the Horizon Award for New Chapter Advisors and the entire chapter advising team won Top Distinguished Chapter Advisor Team. This team consists of Betsy Clark, Mackleen Desravines, Karen Huggin, Vincent Manatsa and Greg Smith.
Distinguished Administrator Award winner Todd Jones says he is proud to support PTK and is thrilled that the chapter and its advisors are receiving well-deserved recognition.
"Although I am honored to receive the Distinguished College Administrator award, it is the faculty that have served and continue to serve as advisors to PTK that deserve the special recognition as they are the one's investing in the lives of our PTK members," says Jones.
The advising team was honored again at the International Spring Catalyst Conference in April as a Distinguished Chapter Advisor Team at the international level. GHC's PTK chapter was also recognized for its leadership role in earning the Georgia Region top Five-Star Regional Status and winning an international Excellence in Service Award.
"I am just so proud of our amazing students and grateful for everyone who helps and supports PTK," said PTK lead advisor and Associate Professor of History Karen Huggin.
PTK is wrapping up the year with a basketball tournament fundraiser for JamQuest, an organization the group connected with at the Fall Regional Conference. The 3-on-3 tournament will take place at GHC's Floyd campus on April 27. GHC graduates, friends and family are also invited to join the chapter at its reception at GHC's commencement activities on May 11.
For more information on GHC's award-winning PTK chapter, visit facebook.com/ptkghc