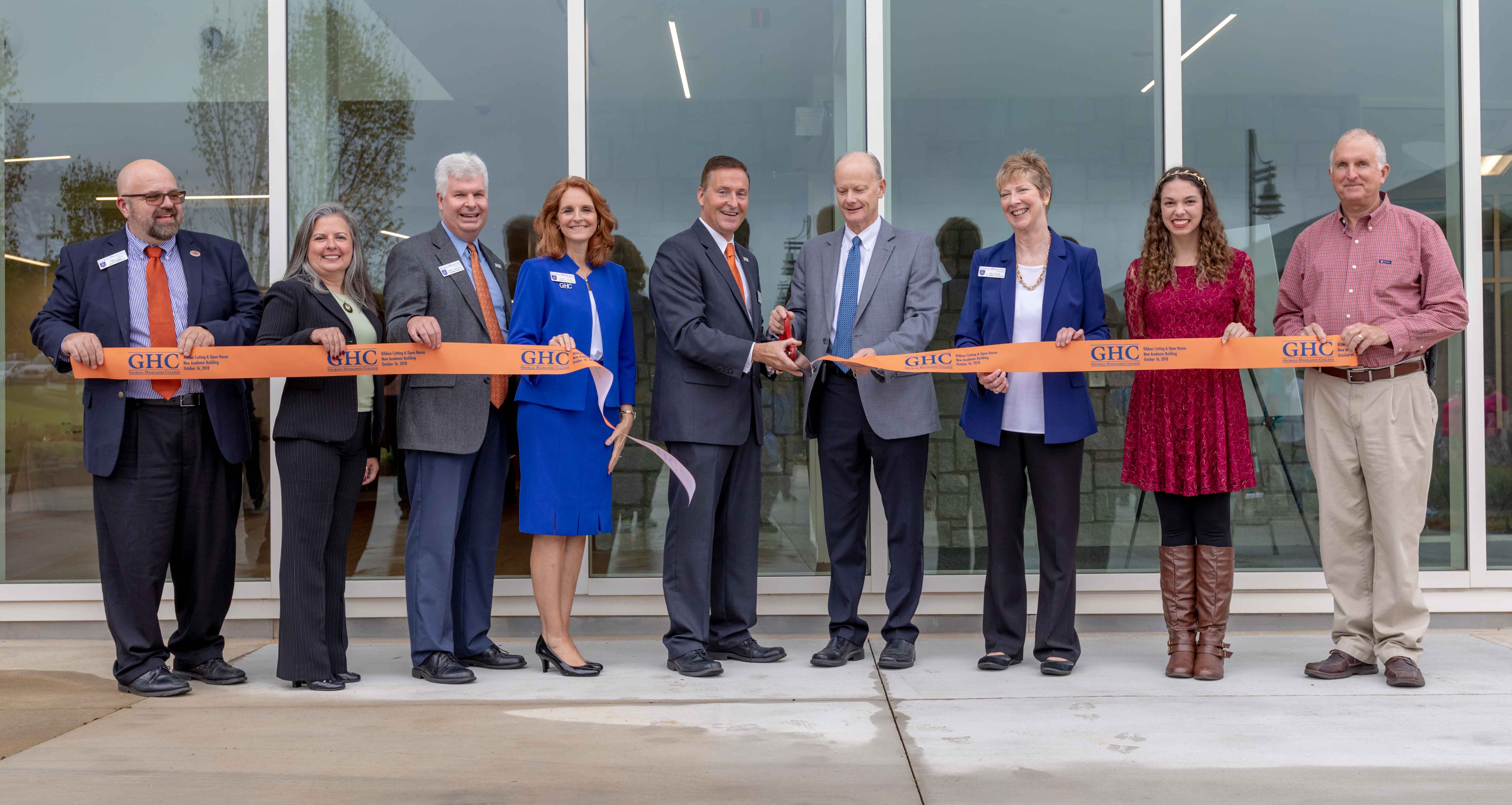 Just over 300 people celebrated as Georgia Highlands College cut the ribbon for its new academic building in Cartersville this week.
The 52,000-square foot building will be focused on STEAM-based (Science, Technology, Engineering, Art, Math) areas of study and will have a full slate of classes starting January 2019.
The building adds an art studio, computer labs, science labs and several classrooms to GHC's site in Cartersville.
"We always get excited about a new building, but the most important thing is what happens inside. And what will be happening inside that building is quality instruction from faculty to our students. That's what ultimately makes the difference in our communities with respect to economic development and workforce, and that's where our focus is. The investment is in the students," said University System of Georgia Chancellor Steve Wrigley.
GHC pursued funding for the building and was approved under the fiscal year 2017 state budget which was approved by Legislature and signed by Governor Deal.
"We would like to especially thank our legislators for all they do to support GHC, the USG and education in the state," said Vice President for Advancement Mary Transue, who also serves in GHC's Government Relations role. "Without their tireless support and dedication, this venture would not have been possible."
GHC received a total $22.5 million in state funding to advance the project: $2.2 for design, $17.7 for construction and $2.6 for equipment.
The new academic building was designed by the EYP Architecture and Engineering Firm (formerly Stanley Beaman & Sears) and was constructed by Juneau.
"The addition of this new academic building will include spaces for laboratories, classrooms, a lecture hall, study rooms and more," President Don Green said. "This increases GHC's ability to directly impact and support the community workforce through STEAM-based degrees, and it allows GHC to better serve as the University System of Georgia's primary access institution in the region."
Green added that the building will also contribute to raising GHC's nearly $150 million economic impact in Northwest Georgia. GHC has five locations across Northwest Georgia in Rome, Cartersville, Marietta, Dallas and Douglasville. He stated that the building also strengthens and broadens GHC's ability to maintain a strong relationship with K-12 school systems across Northwest Georgia.
Green also extended thanks to all GHC's new corporate and foundation partners: Premier Partner Georgia Power; Executive Partners Bond, James Bond, Inc., Century Bank of Georgia, Community Criminal Justice Foundation and Juneau Construction Company; Visionary Partner McWhorter Capital Partners; Leader Partners Steve Moore with Mystique Consulting Services, Inc. and Synovus Bank; Champion Partners City of Cartersville and Excel Graphic Services; and Innovator Partners Cartersville-Bartow Chamber of Commerce, Mark Weaver with Excel Graphic Services, and Randy Quick, Rome City Commission, Ward Two.
The new Corporate and Foundation Partnership program through the GHC Foundation creates strong partnerships and works to make education a priority in Northwest Georgia while providing support to students and programs at the college with the goal of encouraging economic development and building stronger communities.
PICTURE: (L-R) Vice President for Finance & Administration Jeff Davis; Vice President for Academic Affairs Dana Nichols; Vice President of Student Affairs Todd Jones; Cartersville Campus Dean Leslie Johnson; President Don Green; USG Chancellor Steve Wrigley; Vice President for Advancement and Government Relations Mary Transue; Student Government President Danielle Griesemer; and Director of Plant Operations Phillip Kimsey.