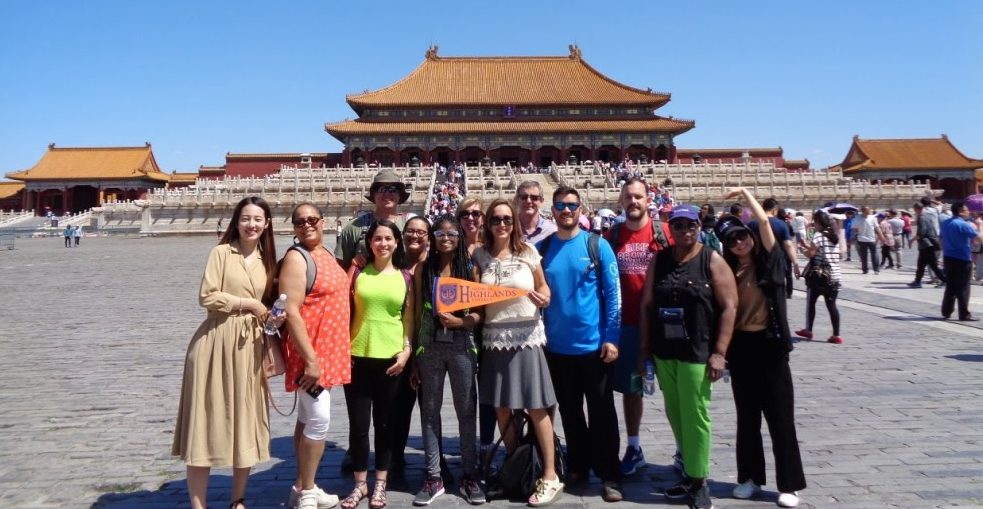 Students, faculty and one member of the local business community spent nine days in China this summer on a "Business and Culture" study abroad program.
The group visited the cities of Beijing, Xi'an and Shanghai, including historical and cultural sites such as the Great Wall of China, Tiananmen Square, the Forbidden Palace, the Terracotta Army museum and the Shanghai Tower.
"Our trip to China was a great success," said Associate Professor of History Bronson Long, who is also the director of global initiatives and study abroad. "It was a tremendous learning experience for everyone who participated."
Additionally, the group visited a hospital in Shanghai called St. Michael Hospital.
CEO and President of Floyd Medical Center Kurt Stuenkel, who joined the GHC group as a business traveler, met with the CEO of St. Michael Hospital.
"China has a large public health care system that addresses the needs of most all of the residents, with large urban facilities and clinics as well as providers for rural areas," Stuenkel said. "China also has other providers, some of whom have ownership and collaboration with organizations from other countries. We visited such an organization in Shanghai. It is a smaller hospital and it caters to visitors, hotel guests, and to some residents from the area. It was interesting to learn more about how medical care is delivered in this facility and to learn about Chinese health care."
The trip concludes a yearlong academic focus on China for GHC.
"We decided to have a whole host of China-related events at GHC locations during the 2017-2018 academic year," Long said. "In essence, this made China our 'theme country.'"
Activities for students included creating a bamboo garden, watching the Atlanta Chinese Dance Company perform, learning how to cook Chinese cuisine with Chef Egg and more.
In addition to these events, Long stated that GHC also hosted a major academic conference in October, which featured guests/attendees from across the University System of Georgia and the northwest Georgia business community, as well as speakers on China from several prestigious institutions.
To learn more about study abroad opportunities at GHC, please visit: highlands.edu