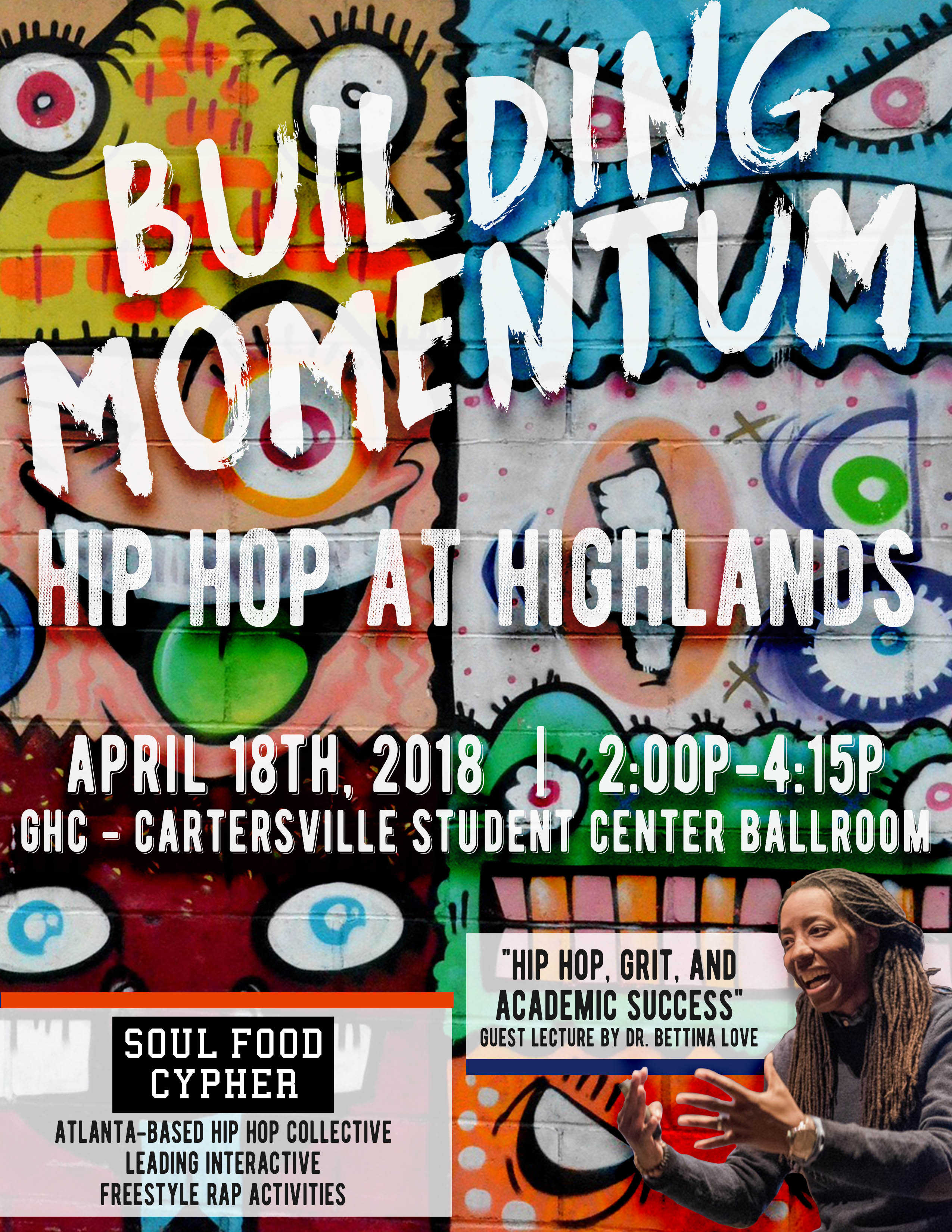 Georgia Highlands College will be hosting a two-hour event on learning, hip-hop culture and the art of freestyle rap at its Cartersville location on April 18th from 2PM to 4:15PM in the Student Center.
Starting at 2PM, GHC will host Soul Food Cypher, an Atlanta-based group who aims to provide "cultural events that create a place for positive social interactions, using the arts and shared neighborhood spaces as a cultural bridge through the use of hip-hop and the craft of freestyle lyricism."
"We are an organization that showcases the positive aspects of rap through our cypher events, membership program, and community outreach," the group stated. "Our aim is to provide Atlanta's lyricist (rappers) community with a safe and nurturing environment where their voice and artistry can grow. In addition, we look to solidify the art of freestyling as a genuine aesthetic to the wider artistic community and carry this rich tradition to the next generation."
Soul Food Cypher will be conducting an interactive performance that uses audience participation to create freestyle raps.
At 3PM, GHC will have speaker Bettina Love, also known as Dr. Love, who is an award-winning author and an associate professor at the University of Georgia.
Love will be talking about how hip-hop culture and academic success go hand-in-hand.
Her research focuses on the ways in which urban youth negotiate hip-hop music and culture to form social, cultural and political identities to create new and sustaining ways of thinking about urban education and social justice. Love is focused on transforming urban classrooms through the use of non-traditional educational curricula and classroom structures.
"This event has applicable learning outcomes across a number of academic areas, including history, education, art, communications, psychology, sociology, political science, business, marketing, public relations, English, journalism, and more," said event organizer and GHC Associate Professor Sean Callahan. "Events like this are important because they showcase the ways hip-hop can be used to support academic success.  Students can explore the musical, cultural, social, political, psychological, and historical aspects of hip-hop as topics for class assignments. In addition, this particular event supports Complete College Georgia's Momentum Year initiative, as co-cognitive skills, like grit, will be a primary focus of the lecture."
This event will be livestreamed to the each GHC instructional sites and is open to students, staff and faculty in the University System of Georgia.
For more information on Soul Food Cypher: http://www.soulfoodcypher.com/about/
For more information on Bettina Love: http://www.bettinalove.com/about/