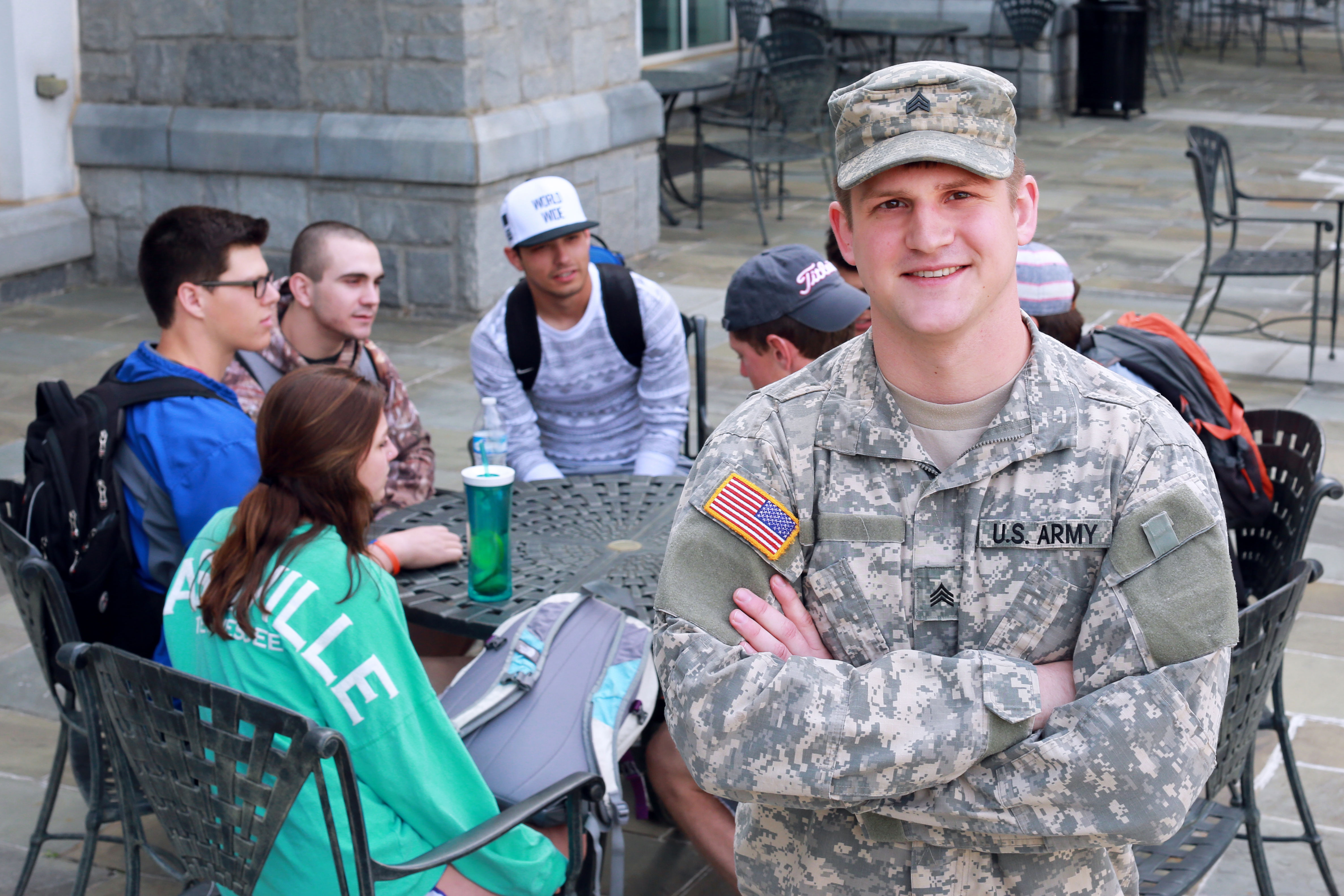 All University System of Georgia institutions agree on one thing: taking care of the state's student-veterans should be a priority.
The state's 28 USG colleges and universities now have a dedicated space on campus just for veterans and also allow them to receive priority access to every course they need to graduate.
"Georgia has a significant military and veteran population," said Dr. David Snow, director of military affairs for the USG's Board of Regents. "While only about 1 percent of the U.S. population has served in the military, that demographic characteristic applies to roughly 9 percent of Georgians. In fact, we have over 750,000 veterans and the fifth-largest active-duty population in the nation. We appreciate their service to our country and want them to succeed whenever they transition back to the civilian sector. It is important not only to their long-term success but also to the future of the state, region and nation. We want all USG students, whether veterans or not, to succeed and graduate."
Amy Wise, Veterans Affairs coordinator at Georgia Highlands College, is happy GHC is a partner in the statewide initiative to help student-veterans.
"The USG and Dr. David Snow are working hard to serve Georgia's veterans, making sure our University System schools are doing all we can to support them with the post-service/college transition, academic success and financial assistance," she said. "The brave men and women of our all-volunteer military have given so much to protect our personal freedoms and safety. It is our privilege to provide them with an environment that promotes military-friendly student success in return."
Priority registration — which allows student-veterans to register for their classes days or weeks, depending on the institution, before other students — is crucial for enabling veterans to be successful academically and to finish their degrees, Snow said.
"Since student-veterans only have 36 months of Veterans Affairs educational benefits, it is important that they are able to secure the required courses before their benefits expire," he said. "As with any student, taking a full course load is critical to timely degree attainment, and with limited benefits, it's important to ensure they obtain the required courses on time and in sequence. If not, it adversely impacts retention and graduation."
Also, Snow added only the school certifying official can approve the courses in a student-veteran's degree plan, which means a student-veteran "cannot simply 'pick up' an additional course to complete their schedule; instead he or she must be able to obtain required courses."
Most institutions already had some kind of priority registration in place for other segments of the student population, such as graduating students or athletes, but during the past few years, the USG has been encouraging all of them to "consider expanding this benefit to student-veterans by explaining why it is important, and 100 percent of the institutions responded in favor of this expansion," Snow, a veteran himself, said.
"Once they realized how this could potentially impact a student-veteran, all of the institutions were eager to offer this benefit," he said. "In fact, most felt this benefit was not only practical and warranted but also the right thing to do. Those that have worn the cloth of the nation have sacrificed years to protect us, and we owe them a debt of gratitude for their selflessness."
Wise said all GHC students, including veterans, who attend early-bird advising to meet with a faculty adviser in their program of study are allowed to register one week earlier than other students.
"We strongly encourage veterans to attend early-bird advising to get the best selection of course offerings because so many also have families, jobs and other responsibilities that restrict available times to take classes," she said.
As for on-campus dedicated spaces for veterans, Wise said four of GHC's five locations — Rome, Cartersville, Douglasville and Paulding — have an area just for their use.
"The Veterans Resource Center in Cartersville has a VA work-study desk and computer; a student desk with computer and printing capabilities; study/hang-out area with couch and TV, microwave, refrigerator [and] coffee; textbook lending library; and many useful resources for our veterans and military family members," she said.
Another benefit USG institutions have been offering student-veterans "in one form or another" since 2004 is waiving out-of-state tuition rates, Snow said.
"It has been revised numerous times over subsequent years," he said. "For example, when I joined the University System of Georgia in 2013, out-of-state tuition was being waived if the student-veteran had separated from military service within the previous 12 months; however, this was really not a lot of time. For example, some veterans had children who were finishing a school year at their last duty station or the veteran worked elsewhere for a year or two and then decided to come to Georgia."
So, "in a clear indication of their commitment to serving veterans," the Board of Regents unanimously voted to extend the time frame to 36 months," Snow said.
"Interestingly, the very next year, a federal law was passed that required all public institutions of higher learning in the United States to provide this exact same 36-month benefit to any student using VA educational benefits, and Georgia was already leading the way nationally and was one of the very first states certified as compliant by the VA," he said.
Snow added more than 1,200 student-veterans graduated spring semester with degrees ranging from associate to doctorate "so, they're doing very well."
Another "military-centered point of pride" for USG concerns the 2017 "Best for Vets" rankings by Military Times, Snow said.
Georgia was one of only two states to have two public institutions in the Top 10 rankings of four-year schools nationwide. Armstrong State University in Savannah came in at No. 4, and Georgia State University in Atlanta was No. 7.
In the same rankings of 130 selected institutions, three other schools from the USG were included: the University of Georgia at No. 42, College of Coastal Georgia in Brunswick at No. 51 and Augusta University at No. 119.
"However, all 28 USG institutions have resources and programs in place to support student-veterans, and they are doing some great things," Snow said. "For example, here in Carterville, Georgia Highlands College has an outstanding program, and every April, they host a Military Family Appreciation Day, which has always had a strong turnout. Personally, I make the drive each year, and it is well worth the effort. Last April, we had reps from one of our institutions in Savannah come up for the day."
GHC also has been selected as a top school by Military Advanced Education & Transitions several times, is considered a military-friendly college and participates in the Yellow Ribbon Program.
Wise said the college had 114 students certified fall semester for VA education benefits at all campuses, with 46 of those being at the Cartersville location, and that's not including student-veterans who currently aren't using the GI Bill.