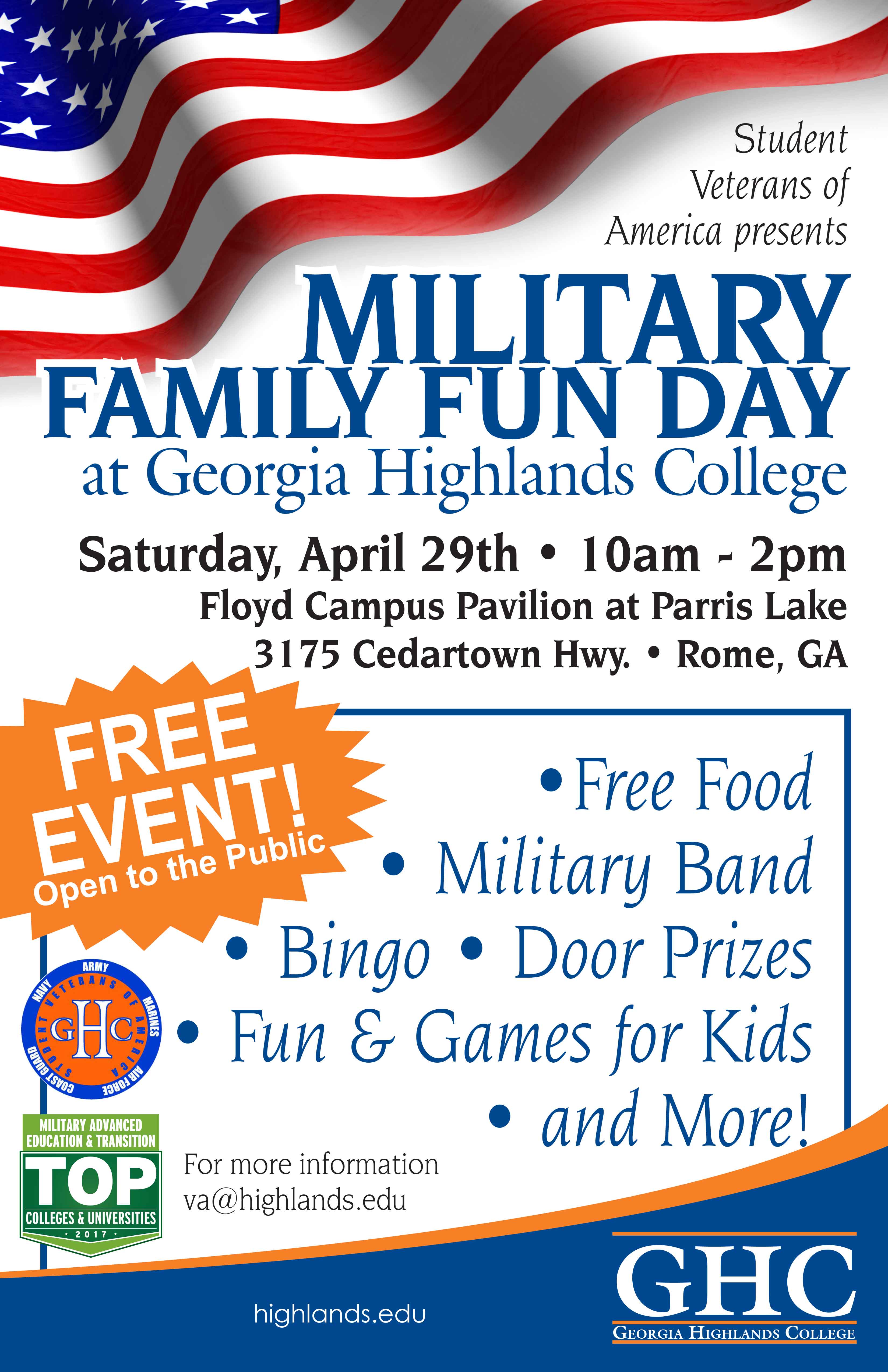 Making its return for the fourth consecutive year is the annual Veterans Family and Military Family Fun Day at Georgia Highlands College. The event is free and open to the public and hosts over 30 vendors and a 20-piece military band.
New this year is the Mobile Vet Center, which provides readjustment counseling and information resources to Veterans across the country. Like community-based Vet Centers, Mobile Vet Centers focus on services that help Veterans make the difficult transition between military and civilian life.
"GHC wants to show appreciation to military families at the college as well our military families in the community," said Veterans Affairs Coordinator Amy Wise. "We want to connect military families with community resources and also provide a fun, free event for kids and adults."
Each year, April is recognized as the month of the military child, which dates back to 1986. In honor of this time of year, GHC will be holding its annual Veterans and Military Family Fun Day event on the Floyd campus on April 29th from 10AM to 2PM.
The event is a partnership between GHC, Student Veterans of America, the GA Army National Guard Family Assistance Specialist and Month of the Military Child celebration.
Wise stated that military service, especially deployments, affects the whole family, and events like this are a perfect opportunity to show veterans and military students and their families as much support as possible.
The event—which includes free food, door prizes, a petting zoo, rock climbing wall, Bingo, a bounce house, canoeing on the lake, and much more—is also open to the public, Wise said.
"This is a fun, free opportunity for our military students to bring their families on campus. It is also an opportunity for GHC faculty, staff and students to bring their families out and show support to our military students," she said. "There will be free food, games, door prizes and much more."
For more information, please contact Amy Wise at 678-872-8005 or by email at awise@highlands.edu.
IF YOU GO:
WHO: Georgia Highlands College
WHAT: Veterans and Military Family Fun Day
WHEN: April 29 from 10AM to 2PM
WHERE: GHC Floyd Campus, ROME