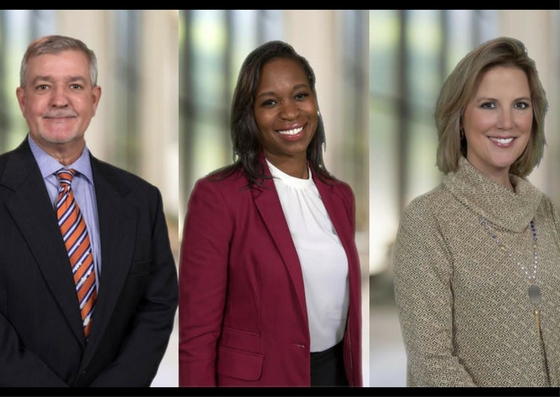 Nine local "unsung heroes" Heritage First Bank, David Mathis, Joe Montgomery, Jim Powell, Pamela Roberts, Kristen Sheeley, Mary Hardin Thornton, Tashia Ingram Twyman and Board of Governor's Honoree, Dr. Richard Dixon have been selected as the recipients of the 2017 Heart of the Community Awards of Honor.
Three of those awarded are affiliated with GHC.
David Mathis serves as the assistant director of athletics. Tashia Twyman teaches FCST at GHC. Mary Harden Thornton has been an annual volunteer for Foundation Camp since the camp was formed.
The nine honorees will be recognized on Feb. 18, 2017 at the 31st annual "Affair of the Heart." The theme for this year is again "Loving Hearts, Helping Hands." These awards are sponsored each year by Redmond Regional Medical Center and produced by the Heart of the Community Board of Governors.
A 1976 graduate of Pepperell High School, David Mathis attend Floyd College (now Georgia Highlands College). He currently serves as Program Manager/Assistant Athletic Director at Georgia Highlands College.
His community services activities have included:
– Floyd Parks and Recreation Board
– Foundation Camp at Georgia Highland College
– NAIA National Football Host committee
– Tournament director Georgia Highs School Association
– Floyd Schools business Partner of the Year
– Recreation Authority Horace Anthony Award
– Georgia Highlands college alumni Award
– Organization Advisor of the Year
– Georgia Highlands Staff Community Involvement Award
– Georgia Highlands President's Meritorious Award
– Served on Floyd Land Bank Authority
– Restoration Lindale Board of Directors
During his tenure on the Authority board, he was instrumental in the transition of Rome Floyd Parks and Recreation form an authority to county control.
Each year he secures funds for the Foundation Camp which was created with a partnership with Georgia Highlands and 100 Black Men of Rome-Northwest Georgia. The camp serves boys 10-16 years of age and serves those who are considered "at risk." Many of those who have participated return each year and go on to attend Georgia Highlands College.
Through his efforts as Tournament Director of the Georgia High School Association the college raised $200,000 for scholarships to non-traditional students at GHC.
David is married to Kathy Mathis and they have three children, Brooks, Ryan and Rachel.
One of the many who nominated David said of him "If David had his way, we would have never known about his good deeds and would never have brought them to your attention. By accident or otherwise, we must celebrate the excellence that David stands for and delivers ease."
Tashia Twyman received a Bachelor of Arts Degree from Georgia State University and a Master's of Education Degree from Jacksonville, State University.
She has served as an instructor and tutor at several colleges and schools in the area.
Her community service does or has included the following:
– Darlington School Strategic Planning
– Community Kitchen Volunteer
– Open Door Home Board
– Rome Housing Authority
– Junior Service League
– Lovejoy Baptist Church
– Alpha Kapa Alpha Sorority
– Rome Housing Authority
Daughter of Rev. & Mrs. Carey N. Ingram, she is married to Christopher P. Twyman and they have two children, Lauren Christa (11) and Myles Christopher (8).
Tashia was nominated by Rhonda Wallace, who says "Tashia's love for her community shows in her smile. She always goes the extra mile to make an event successful. She always shows up "Ready to Go."
Mary Hardin Thornton graduated from West Rome High School in 1987 and from Huntington College in Montgomery, Alabama. She received a B.S. Degree in English, Religion and Philosophy.
She currently serves as the Director of Keep Rome Floyd Beautiful where she works to engage the citizen of Rome and Floyd County to take greater responsibility for improving community environment by preventing litter, reducing waste and becoming more involved in community improvement projects.
Her civic and community activities have included:
– Clean Community Commission
– St. Mary's Catholic Church
– Rome Rotary Club
– Hospitality House for Women Board
– Georgia Arbor Organization
– Director of Neighborhood Sustainability
– Georgia Urban Forest Council
– Paradise Garden Foundation
– South Rome Community Garden
– Network Day Services Board
– Coosa District Civic Service, Boy Scouts of America
– Heart of the Community Foundation Board
– Junior Service League
– Leadership Rome
– TRED ( Trails for Recreation and Economic Development)
She and her husband, Billy, have been married 20 years and have two sons, Wyatt and Henry who attend St. Mary's School.
Her nominators are quick to indicate her infectious enthusiasm and the service she gives to this community.
AS SEEN IN THE ROME NEWS-TRIBUNE (AND TO SEE FULL LIST AND STORY): http://www.northwestgeorgianews.com/rome/lifestyles/local/heart-of-the-community/article_f6128598-d9c1-11e6-99f1-8f9bca41e340.html