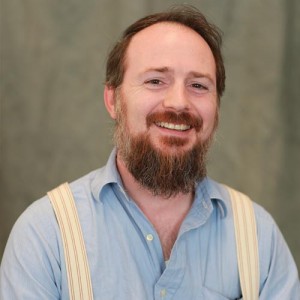 It all started in a church in Fairmount, Georgia. Russell Cook's mom played the piano. His grandmother played the piano and sang.
"I grew up with music," he said. "I was singing in church, since I was four. I grew up hearing gospel music—Southern Baptist hymnals—old timey stuff. That's kind of where a lot of my roots are, I think, even though personally I'm more liberal than that now… but that kind of music is so good to me. I like having that foundation."
When Russell isn't teaching as an assistant professor of art at Georgia Highlands College, he's on the road with Little Country Giants.
"I started playing music at 12," he said. "I started playing guitar. I thought it'd be a good way to meet some girls. That's how I met my wife, so it worked."
Russell's wife Cameron makes up the second part of the core band. The two met and played together for a while, before forming Little Country Giants in 2000.
Russell said that the name of the band came from a close friend who proposed that if Russell and his wife—because neither are very tall—ever formed a band, then that's what they should name it. So they did.
But don't go assuming the word "country" in the band's name links their sound to the kind of country music that's popular these days. Russell admits they nearly dropped the word "country" from the name altogether over the years, in fear of the connotations it might draw.
"We're not like what people might think of when they think of country music," he said. "Especially on the radio today, which is like rap songs about trucks."
Russell explained that the band's sound comes from a combination of genres, mostly the ones he said he got an ear for growing up: blues, jazz, and rock. "All that to me is Americana," he said. "What we do is combine elements of all that. It's just American music."
Russell plays guitar. His wife, Cameron, plays the upright bass. They share the mic singing harmony. And they write original, deceptively simple songs on purpose.
"A lot of older music does that," Russell said. "Saint Louis Blues is one of the most recorded songs in history. You can do it any number of ways. Those songs can go in any direction." He said that writing their songs the same way allows their music to be folksier and alive, something that can change and evolve.
"If we're going to play at a blue grass festival, we can call a couple bluegrass pickers and all of a sudden it has that bluegrass band sound, and if we're going to play a more honky tonk kind of place, we might bring in an electric guitar and some drums," he said.
Russell said the band picks up gigs all across the United States and frequently tours. Recently, Little Country Giants launched a prerelease effort on Kickstarter to promote and presale their fifth CD. They met their $6,000 goal, which has allowed them to record the way they wanted to and capture more of who they really are on an album.
Little Country Giants complete discography can be found on iTunes. The band is also planning a big tour promoting its new CD this summer. For more information, please visit: genuinesouthernmusic.com