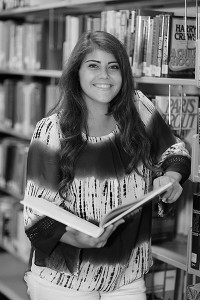 At eight years old, Lindsey Miles' twin sister had a plan. She wanted one of those big trophies that's taller than you are when you stand next to it. She told Lindsey that the best way to get one would be to play softball together. Lindsey wasn't convinced. Then Dad stepped in.
"If she plays, then you have to play," he said. Next thing Lindsey knew, her and her sister were playing softball. "I was forced into playing softball," Lindsey said.
As for her sister and the really tall trophy, she said, "We never got one. That's probably why she quit. She never got that trophy." For Lindsey, softball had become an important part of her life, so she never stopped playing. "I love softball," she said.  "It's what I'm good at."
Lindsey went on to play all through school. She even started taking hitting lessons in high school from different coaches all over Georgia. That's how she met GHC Softball Coach Melissa Wood. And when the inaugural softball team was formed, Coach Wood recruited Lindsey to join as the team's right fielder.
If you fast-forward two years from the moment she was drafted, you'll find that Lindsey is a GHC honors graduate, who earned her associate degree with an impressive 3.7 GPA. She was picked for the All-Region team. And she was happily recruited and accepted to the University of Georgia, where she will continue to play softball and work toward her bachelor's degree.
But Lindsey said she wasn't always so focused and productive.
"In high school, I didn't make good grades at all," she said. "Being social was more important than opening a book and actually learning something."
That all changed when Lindsey joined the GHC softball team and started taking classes at the college.
"It's hard to explain," she said. "Everything [at GHC] is so structured, and I'm good under structure. All the professors here are so focused on you. I know I wouldn't have gotten that if I went somewhere else. That's why I excelled in the classroom."
Lindsey explained that Coach Wood also brought the softball team together to take on college courses as a group, instead of alone. She said they took the same classes, shared books, studied as a group, and took on each semester as a small community of students.
"You spent most of your time with those people," she said. "It helped us to learn together and make sure everyone else was learning it the same way and understanding it the same way, instead of sitting in a corner by yourself and trying to figure it out."
Lindsey added that on top of the group dynamic they formed, she and her fellow team members found it incredibly inviting at GHC.
"The professors are focused on your success," she said. "I've never encountered a professor at GHC who wasn't open to help me out or work around my schedule."
"One time," she went on, "I had to change the date of my midterm because I couldn't be there. I called my professor and she said it would be fine and that I could come and take it in her office a different day—like it was nothing. I think professors like that are the reason why people become so successful."
Lindsey is excited to move on to UGA, but noted that she doesn't think she would have done as well or been as prepared for her upper-level classes had she not attended Georgia Highlands College first.
"I don't know where I'd be if I hadn't gone to GHC after high school," she said. "I feel like if I went straight to UGA I probably wouldn't know how to handle harder classes and wouldn't know how to manage my time very well. GHC and the softball team shaped me for success."
"I have to work hard to earn my grades," she said. "[At GHC], I got a little more attention. Here they know me by name. Here they care that I finish. They have worked with me to find out what I need in order to excel."