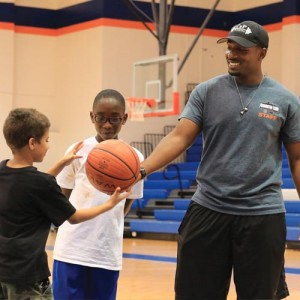 Every year, Corey Pitts blocks out two weeks in his calendar. Nothing interferes with those two weeks. Not his business. Not his friends. Not his family.
When he was a kid, those two weeks helped mold him into who he is today. While he was in college, those two weeks motivated him to finish. Now, those two weeks are a chance for him to be an example and mentor to hundreds of boys between the ages of 10 and 14.
Two weeks every year, Georgia Highlands College hosts the free summer Foundation Camp, which is one of several partnerships between the 100 Black Men of Rome-Northwest Georgia and Georgia Highlands College. It focuses on academics, athletics and enrichment courses intended to build self-respect and confidence, and to allow the young men to experience college.
The Foundation Camp grew out of the National Youth Sports Program (NYSP), which Georgia Highlands hosted for more than 30 years. When federal funding for that initiative was cut, GHC faculty members who had been involved in that program and leaders at the 100 Black Men of Rome joined together to keep the camp going.
When Corey was 10 years old, he attended the NYSP camp, now Foundation Camp, and considers it one of the best experiences of his life—even the time he flipped a canoe in Paris Lake.
"It stays in my brain. We were small. I never got in a canoe before. I don't think I've been in a canoe in this lake since then," he said. "People in the canoe were messing around and rocked the canoe, and I thought we were about to flip, and I fell out."
With no change of clothes, Corey said that he had a very unique odor the whole rest of his time at camp that day and on the bus ride home.
"I smelled like duck water," he said, "hot duck water."
Corey attended the camp two years in a row.
It wasn't until later when Corey started at Georgia Highlands College that he got a chance to see things from the other side and it helped keep him focused on his own future.
"It was a challenge at GHC," he said. "I had a lot of ups and downs."
He had to help get his mom from place to place. His brother became sick. He was working two jobs. He said everything in the book that could happen happened to him. But he said Jon Hershey (camp director and GHC dean of humanities) took him under his wing.
"I felt like somebody had my back. He made sure I stayed on the right path," he said. "He just came up to me and took me under his wing. It was a blessing."
Corey said he became increasingly more active in college, joining student groups, playing intramurals, and even mentoring at the camp during the summers.
"I stayed focused and I didn't give up. I ended up graduating," he said, "and when I graduated I had a story to tell about my experience. It meant a lot to me, my two year degree."
After graduating from GHC, Corey eventually started his own personal training business called CMP Training, where he works one-on-one with professional athletes, kids, college students, weight loss, and even a client as old as 93.
He hasn't missed working at the camp since, and now serves as the assistant director.
"I was one of those kids," he said.
Corey said he knows the backgrounds that many of kids who go to Foundation Camp come from, having come from a hard one himself. He said he lived in a single-parent household, had to live off and on with his grandmother, lived in a tough area and went to a rough school.
"This camp means a lot to me. I feel like I can help change those kids' lives. They just need some guidance and inspiration," he said. "Not all kids are going to be a NBA player. They want to be a NBA player, but there's more out there than just sports. You can be a mentor to the next set of kids. You can be a superstar in your own field. It's not about quick money. There's more to life than what you see from your family. Your family may have a hard time, so you think you have to do what they do, but you don't have to do that."
"You don't have to be an NBA star to make it," he went on. "You can own your own business like me, coming from the same background. You can be somebody. You just have to make it happen."
Corey, the campers, and all those involved celebrated Foundation Camp's 10th year anniversary during the 2015 summer. Well over 100 kids attended the camp and enjoyed numerous activities, including canoeing, tennis, basketball, soccer, STEM-related projects, biology and chemistry projects utilizing liquid nitrogen and a hovercraft, derby car racing, storytelling with live animals like an alligator, a special visit from former NFL player Ken Irvin, and much, much more.