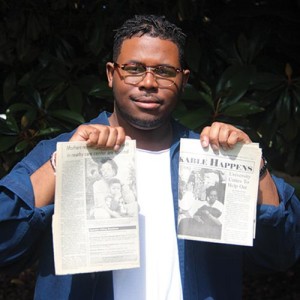 It's 9AM on April 19, 1995. Two young brothers play in a daycare connected to the Alfred P. Murrah Federal Building in Oklahoma. Across the street their mom works in her office. In downtown Oklahoma City, their dad is going about his daily routine as a sheriff's deputy.
In two minutes, everything will change.
In two minutes, a Ryder truck packed with nearly 5,000 pounds of explosives will detonate. It's parked in front of the Federal Building. At 9:02AM, there is a flash and explosion.
In that instant, the blast decimates nearly all of the nine-story Federal Building, incinerates vehicles, and ripples out to destroy and damage more than 300 more buildings in the surrounding area.
Brandon Vallean, a four-month-old baby, and his older brother Desmond, two-years-old at the time, are enveloped by smoke and shock. Their mom Michele immediately goes for them, finding Brandon first, wrapping him up to protect him from the smoke, and then seeking out Desmond, who was crying and bloodied—a shard of glass has split the top of his eye.
Moments later, their dad Michael is on the scene with the rest of the first responders. He wraps Desmond in a blanket and hurries him to aid. A picture is taken as Deputy Sheriff Michael Vallean rushes his bundled son to help.
That picture and many others of the Vallean family during the Oklahoma City Bombing would be printed and talked about in books like "In Their Name: Oklahoma City: The Official Commemorative Volume," in newspapers all across the country like the Edmond Sun, on news stations and radio, and even in national magazines like the U.S. News & World Report.
…
Brandon, a student at Georgia Highlands College, spread the magazines and newspapers and other publications covering the tragedy in Oklahoma across a table on the Marietta campus, as he talked about what happened that day.
"When the bomb went off, everyone could feel the shake," he said. "My mom rushed to get to us… [she] found me and wrapped me up, so I wouldn't breathe in any of the fumes… she could hear my brother crying. She could spot [his cry] from a mile away."
"There weren't any lucky ones," he added.
Timothy McVeigh, who was aided by Terry Nichols, executed the bombing that Wednesday morning. The two were considered anti-government militants. Their domestic terroristic attack killed 168 people. Of those killed, 19 were children—one as young as four months. Several hundred were injured. Brandon and his brother Desmond have both of their names etched on a survivors' wall at the Oklahoma City National Memorial.
The bombing scarred each of them in different ways. Today, Desmond still has a mark over his eye from the glass that cut him. Brandon struggled with intense sounds growing up.
"I couldn't go to a movie theater for a really long time, because the sound would make me freak out, so I couldn't really watch movies," he said. "I guess that was my only way I could remember the bombing…"
Brandon's mom and dad, who were used to moving around, left Oklahoma for Michigan shortly after the bombing. Brandon explained that his dad was originally from Louisiana and his mom from Texas. The two met after his mom traveled to Louisiana for a new job.
Brandon said his mom was constantly moving for her career in retail.
After a short time in Michigan, the family moved to Alabama, and from there, they ended up in Georgia, where Brandon graduated from high school and decided to pursue his associate degree at Georgia Highlands College.
Brandon wants to follow in his mom's footsteps and work in the retail business. Once he completes his associate degree in business administration at GHC, he wants to complete his bachelor's at either Georgia State or Kennesaw. Brandon said he has really enjoyed his time at GHC. He said the one thing he will miss most when he moves on is how supportive and nice the faculty and staff at GHC have been to him.
As for being a survivor of such a tragic day in history, Brandon said it has given him and his family strength and a sense of purpose.
"It brings us even closer," he said. "Looking back on it, it's like we weren't supposed to be here, you know. It keeps us tight as a family."
Brandon added that he is glad he can be here to talk about it, since as time passes, often many people begin to associate events like this one more and more with history and it loses its edge, becomes so distant that it's easy to forget or pretend like it never happened.
"But I can say it happened. It's real. I was there," he said.
"I feel like something like this should never happen," he went on. "It's a part of my history, so I can always retell it. I'll pass it down to my kids and they can pass it down to theirs. All I can do now is move forward."