2016 Charge into Leadership Student Conference
The annual Charge into Leadership Student Conference is held every fall at one of the GHC Campuses. The Conference is free to students, includes lunch and a conference t-shirt. This year's conference is October 8, 2016 from 9:30am- 2:30 pm at the Cartersville Campus.
This year's Keynote Speaker is Romeo Marquez Jr. Romeo Marquez Jr. is a sought-after international speaker, trainer, and coach who empowers the Now Generation to maximize their greatness so they achieve extraordinary results.
He has delivered more than a 1,000 speeches, performances, and presentations to over 200,000 audience members worldwide, covering topics of Leadership, Motivation, Being an Effective Public Speaker, Video, and the Success Principles. Learn more about Romeo on his website.
Register for the FREE Student Leadership Conference here!
Ever wondered what life is like as a student at Georgia Highlands College? We're here to help you understand all that GHC has to offer.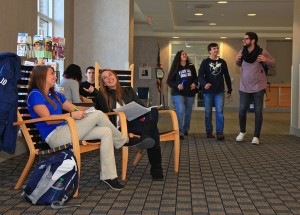 Student Activities:

Career Planning – GHC is dedicated to your success. Our career service team serves to guide you on your journey to your career!

Student Services – From disability assistance to tutoring, GHC has a variety of serves to help its students.
Campus Safety – Learn about our campus safety department that is dedicated to your safety and security.
Discounted Six Flags / Whitewater Tickets for GHC Students – Username – ghcog, Password – SixFlags10 (Password is Numeric and Case Sensitive)
To learn more about the student life at GHC, contact us today!