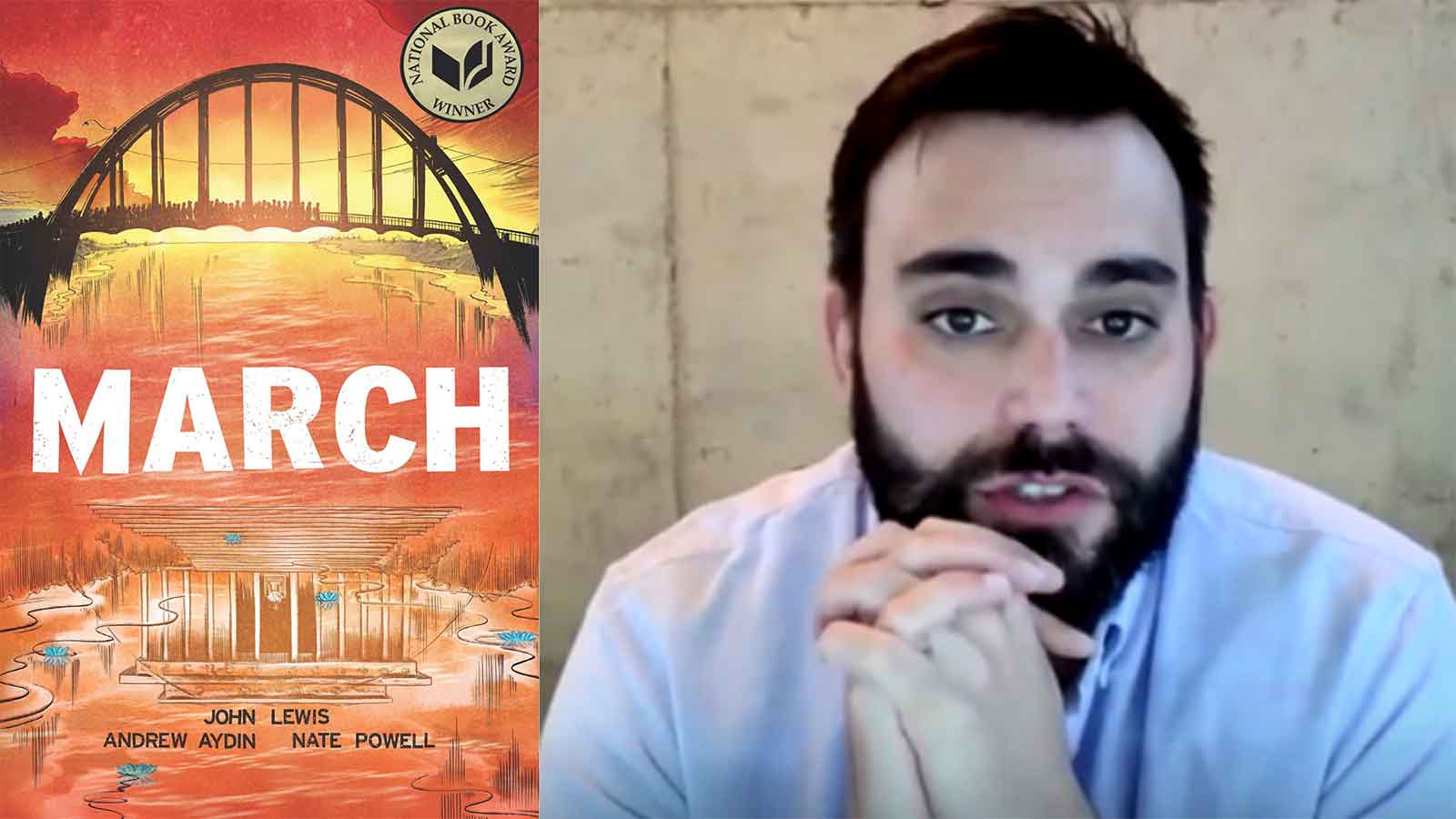 Andrew Aydin, the creator and co-author of the graphic novel memoir series "MARCH," spoke to Georgia Highlands College (GHC) students on Tuesday, Jan. 12, during a virtual event. The National Book Award winning story focuses on the real-life experiences of late U.S Congressman John Lewis.
Aydin's trilogy showcases the civil rights movement and is told from the perspective of Lewis. The congressman is best known for his chairmanship of the Student Nonviolent Coordinating Committee (SNCC) and for leading the march that was halted by police violence on the Edmund Pettus Bridge in Selma, Alabama, in 1965, a landmark event in the history of the civil rights movement that became known as "Bloody Sunday."
The virtual student event was moderated by staff members of the Six Mile Post, the GHC's student newspaper.
Aydin spoke about his experience growing up as a Turkish-American youth in Atlanta, working to survive amid poverty and being raised by a single mother. He told students, faculty and staff about how he was able to accomplish his goals, largely thanks to a mentorship with Lewis and by following the values instilled in him by his mother.
"The idea that you can come from we called '99 cent hamburger poor' and stand on stage with a civil rights icon and hold up your comic book and say, 'I deserve to be here' – that was the highest achievement I have had," Aydin said.
Aydin is a New York Times bestselling author, a National Book Award winner, a Robert F. Kennedy Book Award Honoree, a Printz Award winner, a Sibert Medal winner, a Walter Dean Myers Award winner, a two-time Eisner award winner and the recipient of multiple Coretta Scott King honors.
Reading comics from a young age and often having to borrow them because he could not afford to purchase them, Aydin said he was interested in comic books because the stories were often about "people doing the right thing because it was the right thing to do."
"In comic books, these are characters that have gone through extreme trauma but still found a way to help people," Aydin said.
Aydin then used that theme of altruistic action to co-author "MARCH" alongside Lewis and graphic novelist Nate Powell. According to the website of its publisher, www.penguinrandomhouse.com, the "MARCH" series is a "vivid first-hand account of John Lewis' lifelong struggle for civil and human rights, meditating in the modern age on the distance traveled since the days of Jim Crow and segregation."
While based on Lewis' personal story, it also reflects upon the lows and highs of the broader civil rights movement. Limited copies of "MARCH" were made available for students to take home.
"I think it's just great for students to talk to someone who worked so closely with a person who marched with Dr. Martin Luther King and was on the frontlines of the civil rights movement, what it was like working with them and getting their first-hand perspective on that experience," Cocurricular and Transition Programs Coordinator Clifton Puckett said. "On another level, it can be inspiring for students to engage with someone who's taken an idea and passion of theirs and put It into a finished product."