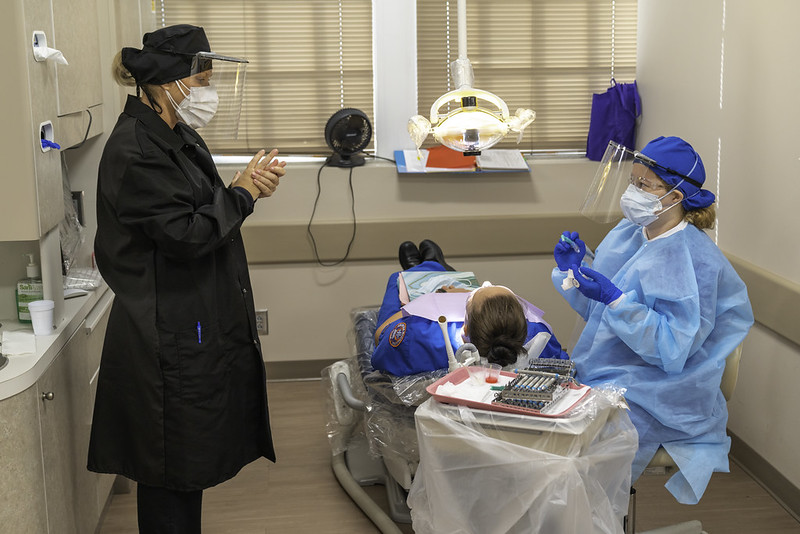 College classes look a lot different than a year ago due to COVID-19, but thanks to attentive, caring faculty members at Georgia Highlands College, students remain on-track toward graduation. Two of GHC's more popular programs, nursing and dental hygiene, continue to take a multi-pronged approach.
Faculty and staff in health sciences have expanded elements of instruction virtually while also creating a safer in-person classroom experience.
From the implementation of increased personal protective equipment (PPE) to online clinical simulation programs, GHC is ensuring nursing and dental hygiene students will have the skills and experience necessary to begin successful careers in healthcare upon graduation.
Extra Protection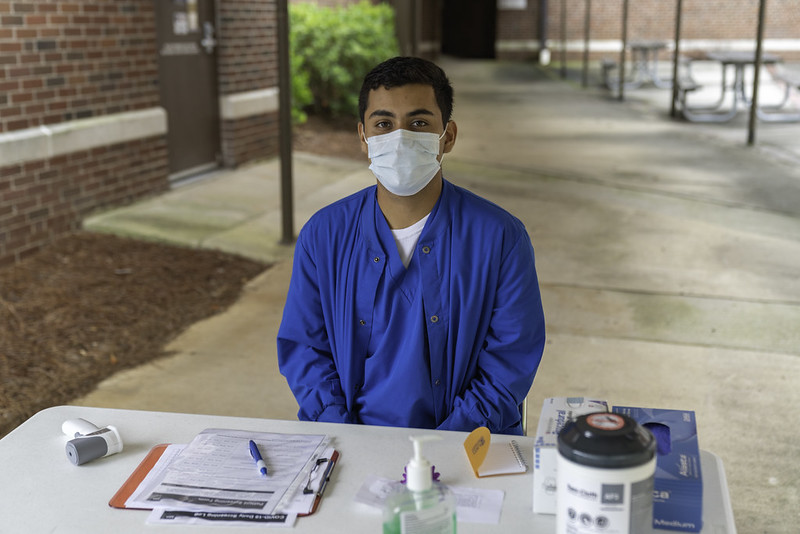 GHC's overall campus guidelines include wearing a mask, remaining six feet apart, and cleaning work surfaces regularly. More on that can be found at chargeahead.highlands.edu
Even so, sometimes classes may require "close contact" scenarios to ensure students are able to practice and learn the skills component or hands-on portion of a particular course, like certain labs taken by dental hygiene students.
"The nature of skills courses requires close contact, so students and faculty are required to wear a level 2 surgical mask at all times," Director of Dental Hygiene Regina Gupta said.
Additionally, added personal protective equipment is always worn in labs and clinical settings; students are assigned to one workstation for the entire semester in lab activities; and increased sanitizing of the work area occurs at each session.
"Our program has always strictly implemented guidelines for infection control, and added PPE is the biggest change," Gupta said. "This is the first time we have mandated the use of N95 masks for aerosol-producing activities."
Both the dental hygiene and nursing programs abide by all CDC guidelines, including the use of personal protective equipment and the sanitization of workstations, working to help prevent the spread of COVID-19.
The dental hygiene program also continues to provide patient services and has also purchased additional personal protective equipment, including N95 masks and full-face shields. In addition, the program follows all Center for Disease Control and Prevention, Occupational Health and Safety Act and Georgia Board of Dentistry guidelines, which includes screening all students, faculty, staff and patients who enter the Heritage Hall building.
Gupta added that additional technology and online methods created by faculty have also played a big part in teaching students during the pandemic.
New Technology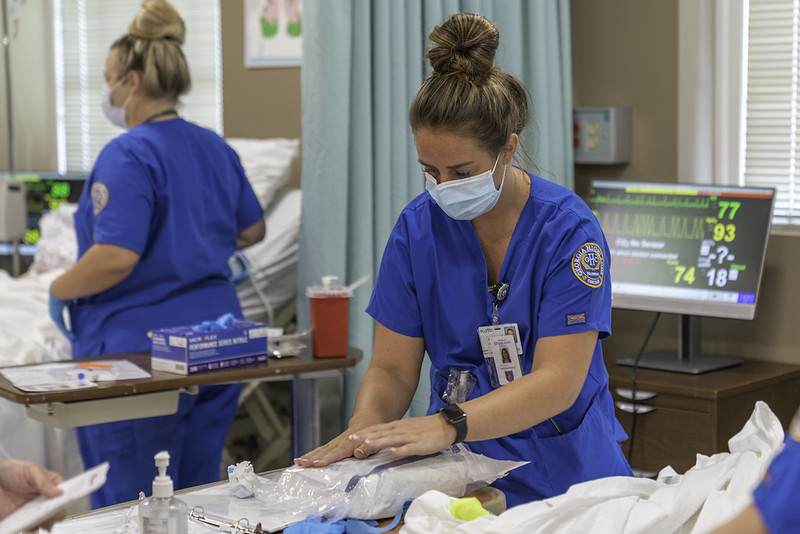 On top of utilizing some remote instruction measures for teaching courses like Nursing Theory through video conferencing programs, new online clinical simulation programs have set the standard for moving forward at GHC and allows students to simulate real-world interactions with patients.
"These simulation programs have been a huge success and we are going to continue to use them," Dean of Health Sciences Michelle Boyce said. "Faculty have also created some online methods to evaluate clinical scenarios."
The nursing program utilizes several different modalities for simulation. For the highest level of simulation, known as High Fidelity Simulation, the program incorporates a computer-aided mannequin to mimic a variety of real-life patient scenarios.
"These mannequins have pulses, lung sounds and voice responses," Assistant Director of Nursing Shea Walker said. "They can be adjusted to react to the different responses the students make based on the clinical scenario."
The program has also incorporated the use of simulated charting and case study software, allowing students to answer questions and document in a client chart based on a specific patient scenario. Students then assess the patient, examine and listen to heart and lung sounds, and perform a full assessment in the virtual world.
"The use of virtual simulation provides students the opportunity to use clinical judgment and apply knowledge they have gained in the classroom to a clinical situation," Walker said. "This virtual simulation allows the opportunity to mimic face-to-face clinical situations, and students can perfect the skill of making appropriate decisions and obtaining pertinent clinical data through the use of these products."
Walker said students benefit from virtual simulation training in many ways, with high fidelity simulation filling in the gaps of hands-on tasks and allowing the student to complete skills such as IV insertion while utilizing clinical judgment.
"In this new COVID environment, students still have the opportunity to practice their skills and hone the art of making clinical decisions in a safe environment," Walker said. "Key clinical skills are still practiced and perfected in these virtual worlds and the students are prepared to care for clients once in the hospital setting."
Career Atmosphere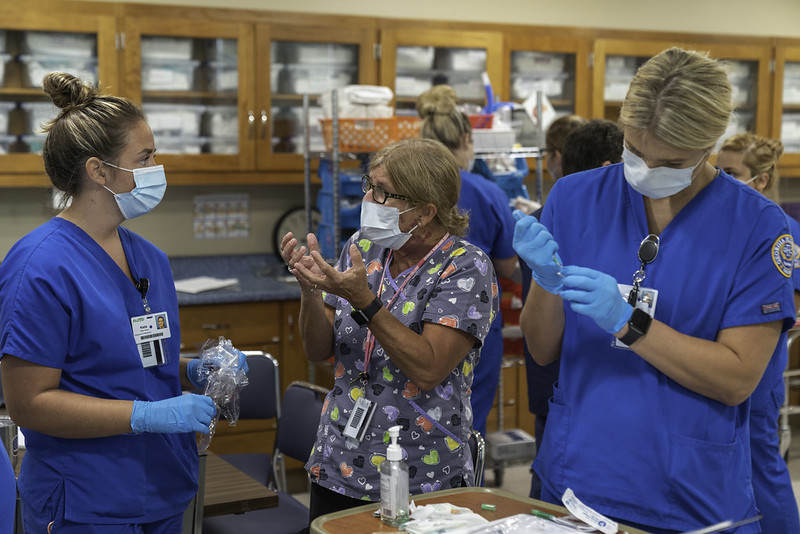 The strict implementation of guidelines for infection control and the use of new technology is all part of the job when you graduate and begin working in the field, GHC's health sciences faculty explained. And many of the changes faced by working health sciences careers today may become the new standard of operation.
Gupta explained that just in the dentistry field it appears "many of these PPE changes are here to stay."
"So, whatever we are doing in our students' professional training should continue to match what will be needed in the practice of dental hygiene when they are employed as hygienists," Gupta added.
Gearing students for careers after graduation remains a chief mission among all programs at GHC, which means faculty have continued to adapt curriculum to be safer for in-person instruction; include the use of new technology; and to reflect what students are expected to know when they enter the workforce.
Visit chargeahead.highlands.edu for more information about classes, campus guidelines and how GHC is continuing to make classes safe and effective for in-person instruction.
The deadline to apply for spring semester is December 15. Classes begin in January. Apply at highlands.edu