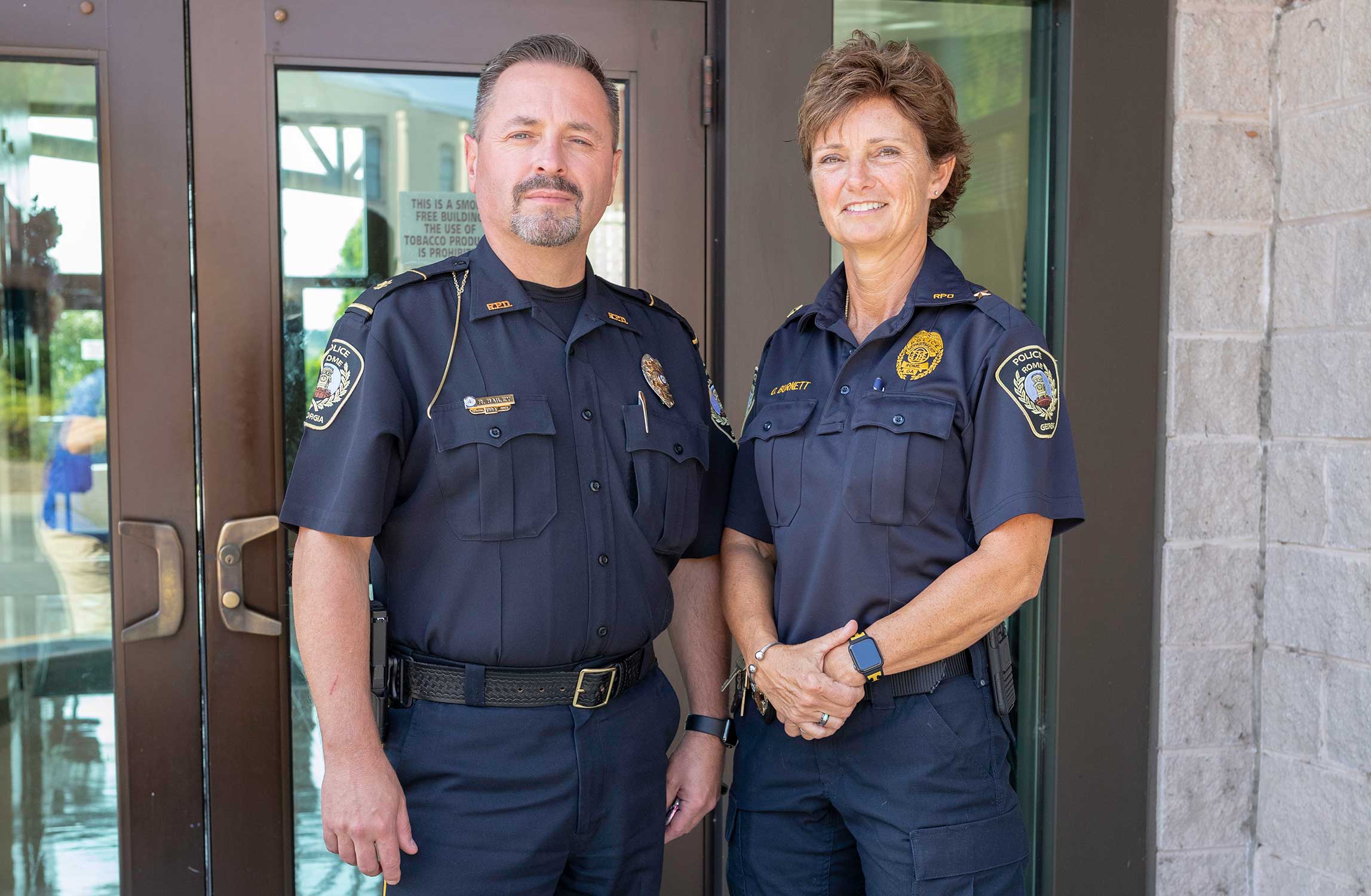 The Rome Police Department is tasked with serving and protecting over 35,000 people in Floyd County's largest city of Rome. Nearly 100 police officers work each day to accomplish this goal, and two Georgia Highlands College alumni help lead the department which houses everything from a detective division to a D.U.I. task force to a SWAT team and K-9 teams. Those two alumni are Debbie Burnett and Rodney Bailey.
Debbie serves as the assistant chief of police.
In addition to her administrative duties, she finds one of the best parts of her job is having the ability to provide Rome police officers with all the tools and equipment needed to increase success and efficiency.
Together, Debbie and Chief of Police Denise Downer-McKinney oversee the Support Services Bureau and the Field Operations Bureau which altogether provides specialized divisions in over 20 areas to the operation of the police department.
"[It's] challenging, ever-changing, demanding, stressful and the most rewarding job anyone can have if it's done the right way," she said. "It's the opportunity to make a positive difference in someone's life every day, even if you don't realize you had an impact. It's the honor of taking an oath and living up to that standard of keeping a promise to the people who entrust you with the authority."
Debbie said she always sort of knew what she wanted to do. Being both interested in the field of criminal justice and the military, she knew she wanted a career serving and helping anyway she could.
"When I was younger, I had a desire to help people," she said. "I still have that opportunity on a daily basis, even after 28 years."
When Debbie was first hired as a patrol officer, she knew she wanted to grow and climb to a leadership role in her career, so she while she was working as an officer, she also took classes at GHC.
"I knew in order to lead, I had to learn both the workings of being a police officer and the law. I knew I would need higher education to help me grow in these ways," she said. "I enrolled at [Georgia Highlands College (then Floyd College)] and began my education."
Debbie said her time at GHC prepared her for her role today. She learned a great deal about criminal justice, her potential, and was encouraged every step of the way.
"GHC set me on the path to complete my higher education journey, which, in turn, set me on a path to advancement in my career," she said. "I was also able to set an example for my daughter and the officers who work with me that if you set your mind to it, you can have both a career and an education, even if you're doing them at the same time."
Rodney Bailey, who is major and oversees the Field Operations Bureau for the department, echoes this sentiment.
Rodney started out in the United States Air Force, serving in Operation Desert Storm. He said he felt called to the field of criminal justice shortly after his tenure with the military.
"I have had a heart to serve since I was young," he said. "I would describe policing as the best job in the world."
Rodney now leads over 60 officers within his branch at the Rome Police Department. He started working toward his position in 1995 when he decided to apply for the Criminal Justice Foundation Scholarship and take classes at GHC. He was awarded the scholarship and didn't waste any time.
He said the professors at GHC had an impact on his career and helped motivate him to graduate.
"GHC was the start to a long and prosperous career," he said. "Connecting with students within the community always makes a positive impact on the overall quality of life as we grow into leadership roles in our careers. GHC is local and you make connections that last a lifetime. GHC is a great option. It was the springboard to my success."