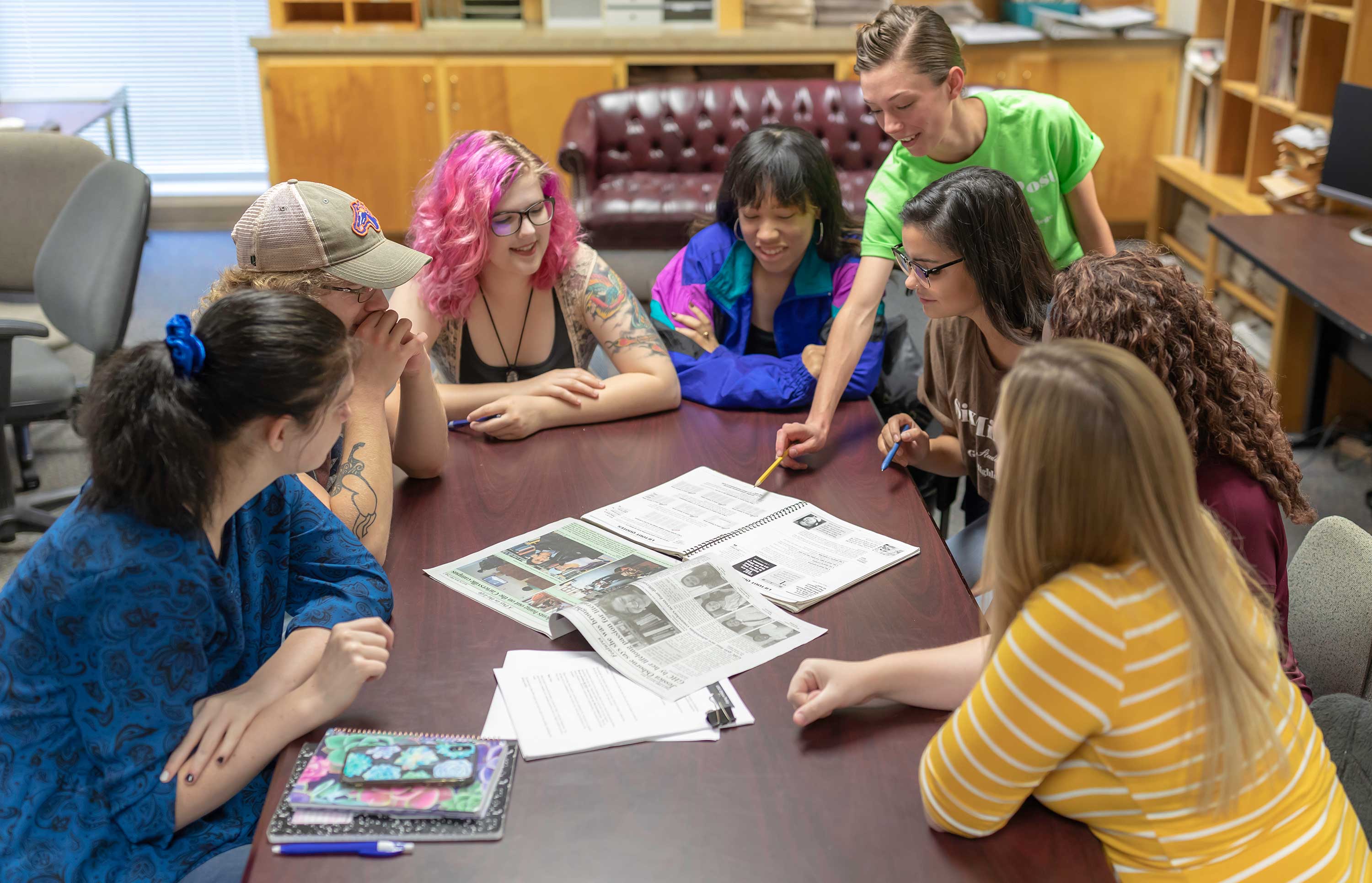 Georgia Highlands College's student newspaper, the Six Mile Post, finished the 2018-2019 academic year with a bang, bringing home awards from the Georgia College Press Association, the Southern Regional Press Institute and the Associated Collegiate Press.
This year, a new group of students and a new faculty adviser are leading the newspaper into its next volume.
Editor-in-Chief Olivia Fortner, a sophomore business administration major and the paper's returning lead editor, is looking forward to another successful year for the publication.
"We hope to be an award-winning newspaper again this year," she said. "The team we have now is competent and talented. Though many of us are new to the newsroom, the skill sets and personalities here have a lot to bring to the table."
Assistant Professor Allison Hattaway, the organization's new adviser, thinks the Six Mile Post will improve those skill sets even more.
"I believe that students really gain a tremendous amount of confidence when they participate in a student publication staff," she said. "I've also seen how well a staff bonds as they work together and friendships are formed that last lifetimes. It's a very special and unique team to be a part of."
Like many on the student staff, this is Hattaway's first year with the paper, as well. While she's new to the Six Mile Post, she isn't new to student publications. She previously advised both the student newspaper and yearbook groups at Shorter University. Hattaway is excited to bring her expertise to the Six Mile Post.
"I see it as a wonderful opportunity to represent students across all campuses and to help students gain a solid journalism foundation," she said.
For students looking to get involved with the Six Mile Post, the publication is still seeking volunteer writers, photographers and artists. Those interested can apply online at sixmilepost.com
The first issue of the new academic year's volume of the Six Mile Post will hit the stands on October 8. Copies of the award-winning publication can be found at each GHC location or online at sixmilepost.com