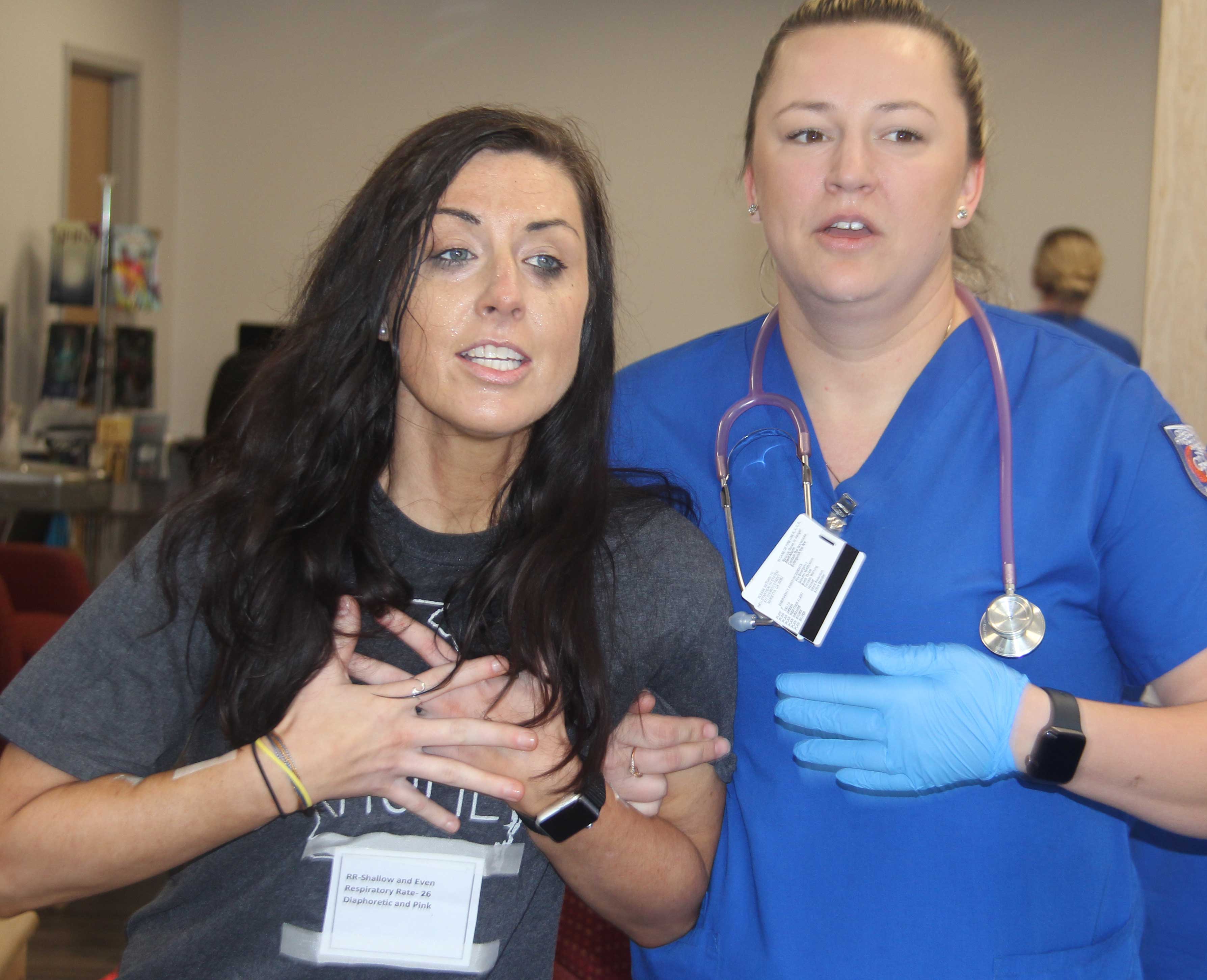 Cathy Furtado and other Georgia Highlands College nursing students funneled into a small room at Heritage Hall Wednesday morning where several disaster victims were awaiting help during a disaster training simulation with the Floyd County Police Department and other emergency personnel.
The disaster victims were played by other nursing students who were given unique health problems, injuries and personality traits for the nursing students to deal with. Some were unresponsive. Some were "bleeding." Some were yelling.
But Cathy and her fellow classmates knew exactly what to do.
"It was very surreal," Cathy said, explaining this was the first time she had ever experienced this kind of exercise. "Our job was to go in, assess the situation, and begin triage. Your adrenaline gets going, but everyone on our team did really well."
Cathy stated she was very glad GHC and local first responders put her class through the disaster training exercise.
Nursing student Betsy Chamblee echoed Cathy's remarks.
"It's something we need to know this day and age. It's a very good learning experience," she said. "You're really nervous going into it, but it was really cool to see how everyone jumps into action."
Betsy, who worked during the exercise to apply gauze and help victims out of the disaster area, said this was an experience she will never forget.
The disaster drill took part in several different phases. One was instruction in how to respond to certain types of incidents that might involve police and first responders – sharing the "how" and "why" certain protocols are in place.
The final phase included nursing students working through the triage scenario while assessment took place by instructors and public safety observers.
"The best way to prepare our nursing students for disasters is through simulation," Director of Nursing Rebecca Maddox said. "By involving police and EMS in our simulation, students have the opportunity to work on their collaborative communication skills in addition to utilizing their critical thinking and assessment skills for triage and treatment."