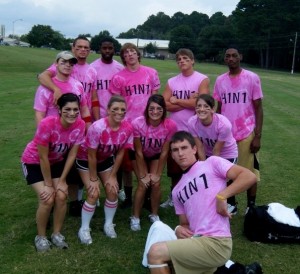 The Intramural Program at Georgia Highlands College is dedicated to providing opportunity for each student, faculty, or staff member to participate in a variety of wellness, fitness and sports activities. GHC offers intramural sports to promote health, sportsmanship, teambuilding skills and memories that last a lifetime.
Available Sports:
Fall Semester
Co-ed Flag-Football
Men's 3-on-3 Basketball
Women's 3-on-3 Basketball
Co-ed Indoor Volleyball
Ultimate Frisbee
Turkey Day Walk/Run * Co-ed Soccer
Tennis Tournament * Co-ed Softball
Billiards Tournament * Tennis Tournament
Ping-Pong Tournament * Golf Tournament
FIT Program (weekly workouts/miles) * Billiards Tournament
Spring Semester:
Men's 5-on-5 Basketball
Women's 5-on-5 Basketball
Co-ed Beach Volleyball
Dodge Ball
Kick Ball
Co-ed Soccer
Co-ed Softball
Tennis Tournament
Golf Tournament
Billiards Tournament
Ping Pong Tournament
FIT Program (weekly workouts/miles)
Need To Check Out Equipment?

The equipment check-out area is located in the Gym at the Floyd Campus in the PHEM Building (find the secretary's office). This is where students and faculty can sign-up for Intramural Sports, as well as check-out equipment. Don't forget to bring a valid GHC ID!
Equipment for Check-out:
Dodge balls, footballs, basketballs, volleyballs, soccer balls
Tennis rackets, Tennis balls, flag football flags, cones, jump ropes
Frisbees, Hula Hoops, Mesh Jerseys, Softballs, Bats, Golf Clubs, golf balls
Backpacks, sleeping bags, ground pads, tents, ground cloths, cook kits
If you are a Registered Student Organization (RSO), you may checkout select equipment for events:
Canoes, paddles, life-jackets, field strippers, coolers
For more information on schedules, team rosters and updates, please visit GHCchargers.com.