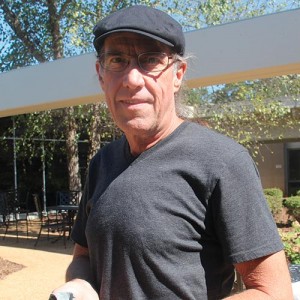 When the call came in, Dad placed two concrete blocks on the ground. Then he set two-by-fours across the tops. He looked at his daughter and said, "This is going to be like ultimate limbo. Crawl under that."
GHC Associate Professor of Geology Billy Morris (Dad) was prepping former GHC student Hannah Morris (daughter) for a 7-inch wide crawl in South Africa. What neither of them were aware of was that this would be the tight squeeze between "business as usual" in archaeology world and the discovery of an entirely new species of hominid.
"She came in after a day's work, got on the computer, and saw an unusual ad on Facebook," Billy said. "It basically said, 'I need you to come to South Africa and I can't tell you why, but you need to have caving and climbing experience and you can't be claustrophobic."
Unbeknownst to Hannah, only five days before the Facebook ad, amateur cavers had maneuvered through the 7-inch crevice and found a large opening on the opposite side where there were hominid bones on the floor of a chamber.
Hannah was chosen for a Skype interview a few days after applying and she was chosen. It wasn't just her experience that won her the job, though. It was her size. The opening she would have to traverse, she was told, was only 7-inches wide. The backyard rig simply wouldn't do. It wasn't close enough to the real thing for Hannah. She had experienced the real thing before with her dad—growing up caving and rock climbing. And Billy knew just the place she needed to go.
"We went back to some of our old stomping grounds in Northwest Georgia on Pigeon Mountain," Billy said. "There's a spot in Petty John's Cave there called the pancake squeeze. We went through the tightest, meanest, gnarliest places we could find while she was here. She cut her teeth on Petty John's Cave."
Once Hannah made it to the South Africa site weeks later, she saw just how big of a deal it was. Huge canvas tents spotted the area around the cave. Researchers and scientist all awaited what would emerge. Film crews were standing by, ready to document the next big discovery.
Hannah was a little apprehensive to find out she would be one of the first three to go inside. Every night, Hannah would report what was happening at the site to Billy via Skype.
"She was pretty excited," he said. "She kept saying, 'I think I got this. I think I got this.'"
Without harnesses or ropes—something the cavers soon found to be too bothersome in the confined space—Hannah positioned herself for the narrowing descent. Slowly and steadily and at just the right angle, she squeezed through.
"There was only one way for her to fit through there," Billy said. "Every body part had to be in just the right spot."
On the other side? Researchers are calling it "Homo naledi." According to associated press reports: The first word "Homo" refers to an evolutionary group that includes modern people and close extinct relatives. The second word stands for "star" in the local language and is used in reference to the fact that the discovery was made in the Rising Star cave system.
Over 1,550 fossils were found, while Hannah was there. It was a new species.
"I would never have dreamed something like this would happen. I was incredibly proud of her," Billy said. "Everyone loves to see somebody do something with passion, and when your own kid does something they really love and believe in, it's really rewarding."
Hannah continues her studies at the University of Georgia. She is currently pursuing her doctorate in paleobotany.