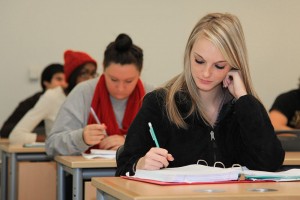 What is the Dual Enrollment Program?
The Georgia Highlands College (GHC) Dual Enrollment Program is designed for high school students who are capable of entering college while still completing high school coursework and requirements. Students must have approval from their high school counselor
and
 a parent or court appointed legal guardian. Please seek approval from your high school counselor before beginning the application process.
It is important to note that the MOWR program covers tuition, most fees, and books. Some fees, such as a Science lab fee or online course fee, are the responsibility of the student. 
If you have questions regarding this process, you may contact a GHC Admissions representative at
admitme@highlands.edu
.
IMPORTANT
Students under the age of 15 are required to meet the minimum

9th Grade Level

admissions standards in order to participate in the GHC Dual Enrollment program.
Only SAT or ACT scores may be used for consideration for admission to the GHC Dual Enrollment program,

Compass or ACCUPLACER placement scores may not be substituted.
Eligibility for continued participation in the GHC Dual Enrollment program requires the student to maintain a 3.0 institutional grade point average.
Dual Enrollment Application Deadlines
(All materials must be submitted by the application deadline for the term you intend to enroll.)
| Term | Application Deadline |
| --- | --- |
| Spring | November 1 |
| Summer | March 1 |
| Fall | April 1 |
Home School and Non-Accredited High School Grade Level Determination: The number of RHSC courses completed in an unaccredited home school / high school program will be evaluated (based on the criteria as defined on the GHC Admissions Guidelines for Home Schooled and Non-Accredited High School Students website) in order to determine the student's current / incoming grade level for participation eligibility in the Dual Enrollment Program.
Minimum Dual Enrollment Admissions Standards by Grade Level
NOTE: The highest scores on either the Old SAT (taken prior to March 2016) or the New SAT (taken March 2016 or later) will be used to determine admissibility to the Dual Enrollment program.  However, GHC does not combine different sections of the Old and New versions of the SAT test for admissibility purposes.
9TH GRADE LEVEL (Completed 1 to 3 required high school courses based on USG BOR Staying on Course)
Minimum high school GPA 3.75 in core classes as calculated by the college
Old SAT (taken prior to March 2016):  Minimum Old SAT Combined Total score of 1500 calculated using highest scores from the SAT Critical Reading and Math sections (with minimum individual section scores in Critical Reading 480 and Math 440)
New SAT (taken March 2016 or later): Minimum New SAT Total Score of 1530 (with minimum individual section scores of New SAT Reading Test Score of 26 and New SAT Math Test Score of 24)
ACT: Minimum ACT Composite score of 34 (with minimum individual section scores of English 20 and Math 18)
10TH (Completed 4 to 7 required high school courses based on USG BOR Staying on Course)
Minimum high school GPA 3.5 in core classes as calculated by the college
Old SAT (taken prior to March 2016):  Minimum Old SAT Combined Total score of 1250 calculated using highest scores from the SAT Critical Reading and Math sections (with minimum individual section scores in Critical Reading 480 and Math 440)
New SAT (taken March 2016 or later): Minimum New SAT Total Score of 1340 (with minimum individual section scores of New SAT Reading Test Score of 26 and New SAT Math Test Score of 24)
ACT: Minimum ACT Composite score of 28 (with minimum individual section scores of English 20 and Math 18)
11TH & 12TH GRADE LEVEL (Completed 8 to 16 required high school courses based on USG BOR Staying on Course)
Minimum high school GPA 3.0 in core classes as calculated by the college
Old SAT (taken prior to March 2016):  Minimum Old SAT Combined Total score of 970 calculated using highest scores from the SAT Critical Reading and Math sections (with minimum individual section scores in Critical Reading 480 and Math 440)
New SAT (taken March 2016 or later): Minimum New SAT Total Score of 1050 (with minimum individual section scores of New SAT Reading Test Score of 26 and New SAT Math Test Score of 24)
ACT: Minimum ACT Composite score of 20 (with minimum individual section scores of English 20 and Math 18)
Steps to Enrollment
Apply for Admission (highlands.edu) – The application processing fee will be waived for Dual Enrollment applicants.
Applicants who attend a regionally accredited high school – Request official high school transcripts to be sent electronically through GaFutures.org or mailed directly to Georgia Highlands College, 3175 Cedartown Hwy, Rome, GA 30161
Applicants who attend an Unaccredited High School / Home School – Submit an Academic Portfolio of Work Guidelines for submission of an academic portfolio of work can be found here.
Request official SAT (collegeboard.com) or ACT (act.org) scores be sent to directly to GHC
Complete the GHC Dual Enrollment consent form found under Admissions Forms
Have your health care provider complete the GHC Certificate of Immunization Form under Admissions Forms
Submit the Dual Enrollment online application for Georgia Student Finance through the GaFutures.org website. The application consists of three parts:

Student & Parent/Guardian
High School/Home Study
Post-secondary institution

Monitor the Check Admissions Status site for updates to your application file
Contact the GHC Dual Enrollment Program Coordinator, or a GHC Admissions representative by email at admitme@highlands.edu
Save